Key Information
In Year 5, we are taught by Mr Overton and we are supported by Mrs Stansfield and Mrs Connolly. Mrs Room also teaches us when Mr Overton is completing hisplanning and preparation.
We follow the the school ethos 'Christ at the Heart of All We Do' to ensure that we can complete our learning to the best of our ability.
Hello!
I'm Mr Overton, and I'm proud to present to you my Year 5 class. There are 31 young learners this year and, so far, they are proving to be polite, hard-working and full of potential.
Mrs Stansfield will join me every morning and for three afternoons, and Mrs Connelly will assist on Monday afternoons. In addition, Mr Little will assist in the delivery of PE twice a week.
Let me tell you some key information to help us all through the year.
Homework
On Mondays, spellings will be sent home in a yellow book; the children will need to learn these for a test on Friday. I have demonstrated a range of strategies to learn them, and I shall collect results as a means of assessing.
Two or three additional pieces of work will be sent home mid-week that relate to topic or Maths or English, and will generally be due the following week, either on Monday or in the next lesson. Please see homework as important: it will always be intended to build on the class learning or to prepare for a sequence of work, so support you child in completing it to the best of their ability. That said, I urge you not to stress over homework too much - if, after half an hour, it is proving too much for any of you, then leave it and send in a note. I'll understand.
Reading
Please listen to your child read at home, and sign and comment in their reading record. This will help us monitor content and progression through the schemes and allows a channel of communication. Children should be taking their assigned 'Home Reading' book home with them every night and returning with it the following day. We are looking for at least 2 signatures in a week. In addition, we will hear your child read twice each week during 'guided reading' sessions, as well as set and discuss follow-up tasks, free reading and book reviews.
Other activities
Guitar lessons take place on a Tuesday morning, so make sure your young musician is well equipped with music (always provided) and instrument. Watch the newsletters and web site for forth-coming events such as Christmas concerts. (School calendar here and newsletter). We will try to post videos and pictures as they come in.
Up until Christmas, year 5 will study PE on Monday and Wednesday afternoon at 2:10pm. Please go to every effort to ensure they have a full regulation kit in school on those days. If you have any problems, please call in at the office - I'm sure we can help. Again, we will be posting pictures and videos of the sessions over the coming weeks. After Christmas, They will attend swimming once a week - more details later.
In the meantime, please don't hesitate to get in touch if you have any questions or concerns: Teachers and parents make a great team when we talk!
Thank you for your co-operation and we hope you enjoy checking back into the Year 5 pages!
Long-term plan.
To see the long term plan for the year, click on the link below.
This tells you the different topics and subject areas by half-term.
Year 5 get gooey! Is it a bird? Is it a plane? Is it a solid? Is it a liquid? Is it BOTH at the same time?
Mackenzie thinks it's a 'Non-Newtonion Fluid'.
Logan says it's a 'SOLIQUID'.
The rest of us think it's just GOOOOO.
Mr Overton KNOWS it's just cornflour and water.
You decide!
Foods from around the world:
In technology, we are to design our own meal or snack using ingredients from around the world.
As a starter, we spent the afternoon tasting various ingredients from France, Germany, Morocco, Ivory Coast, China, Africa, S.America and.....lots more.
Here are the children having a go at their own 'Bush Tucker Trials'.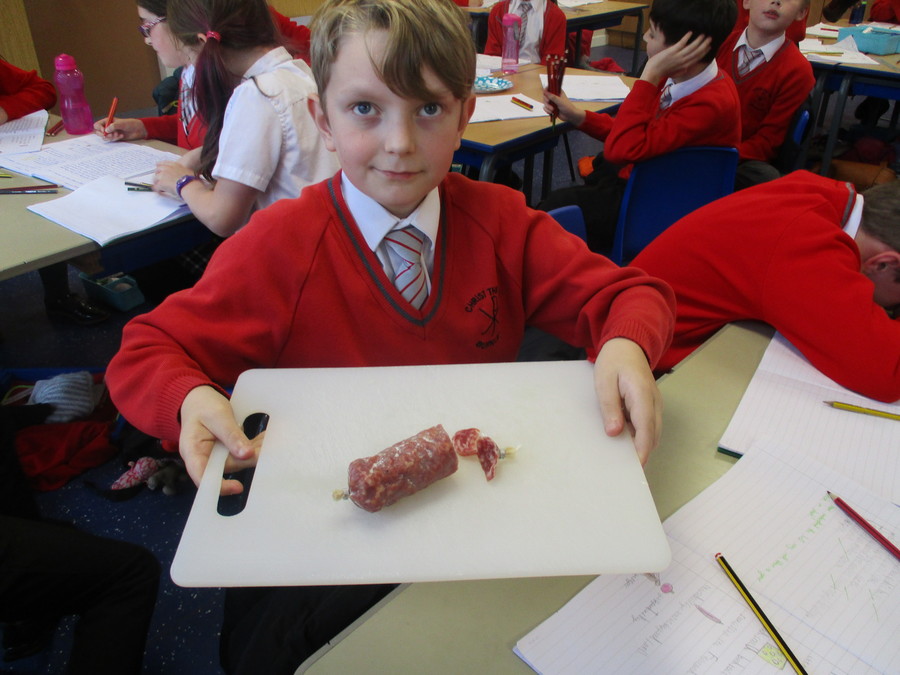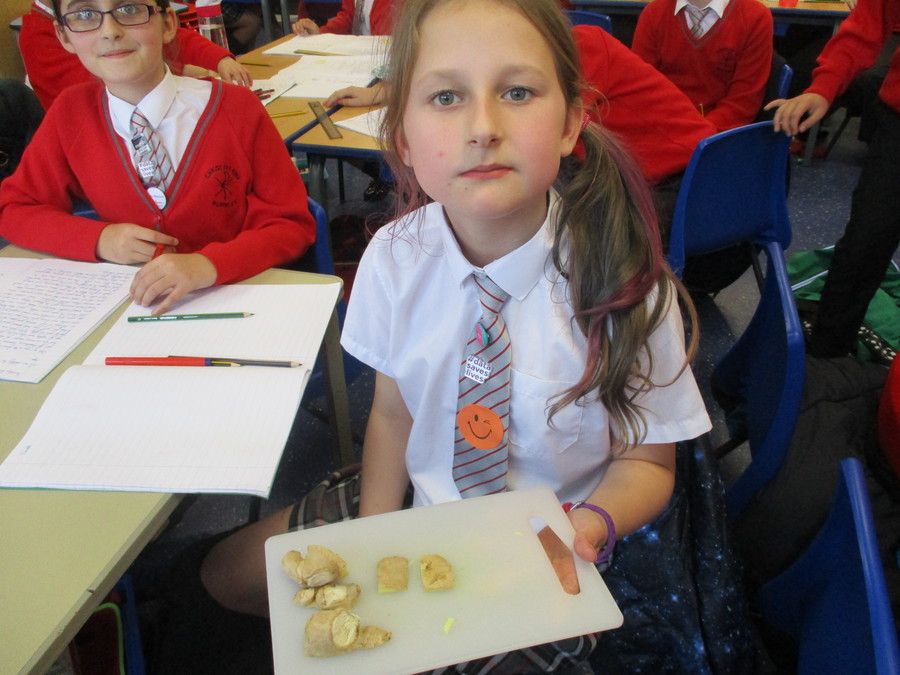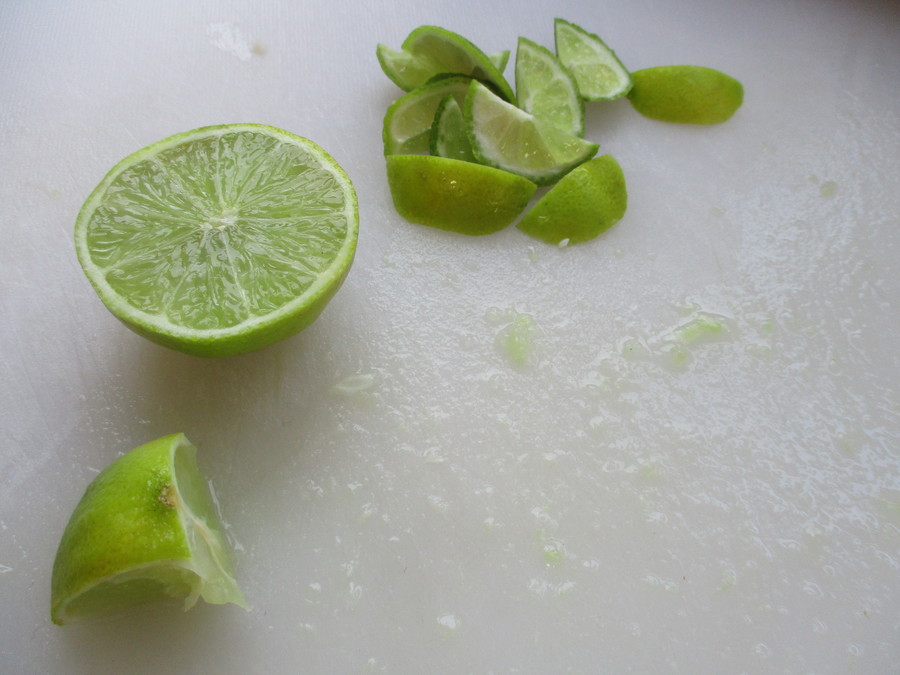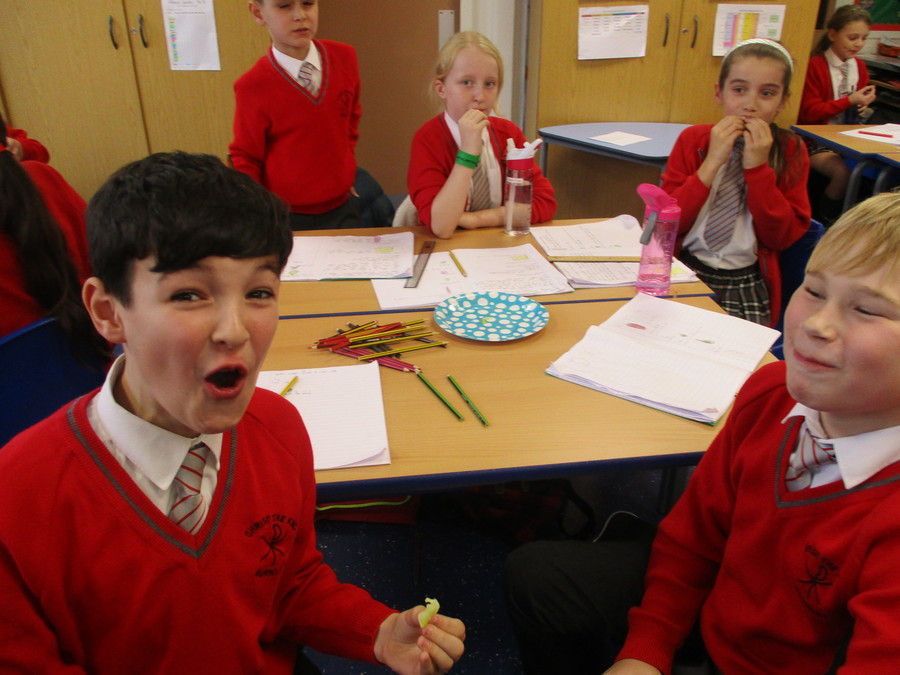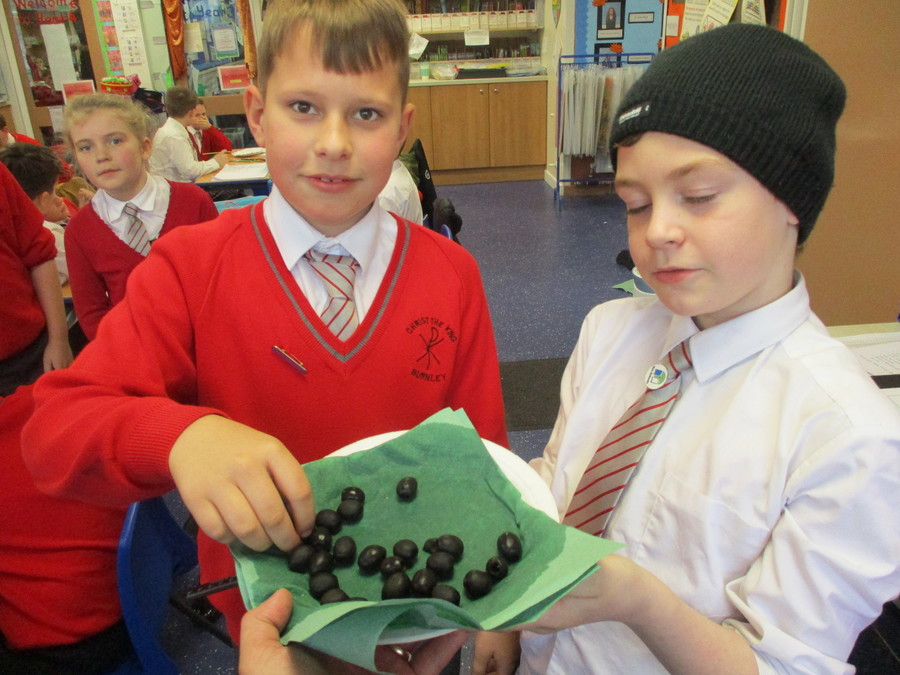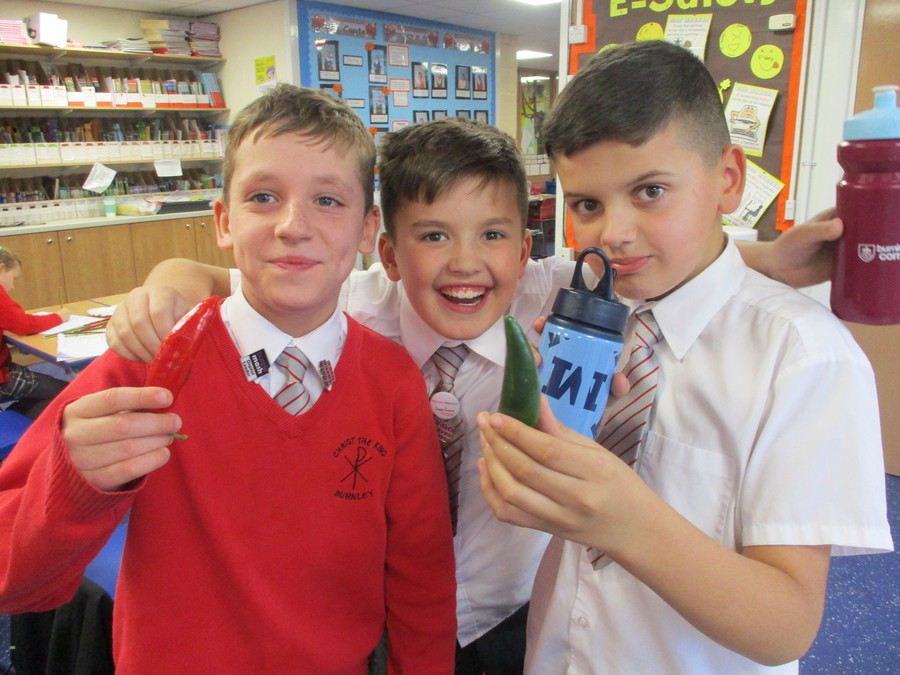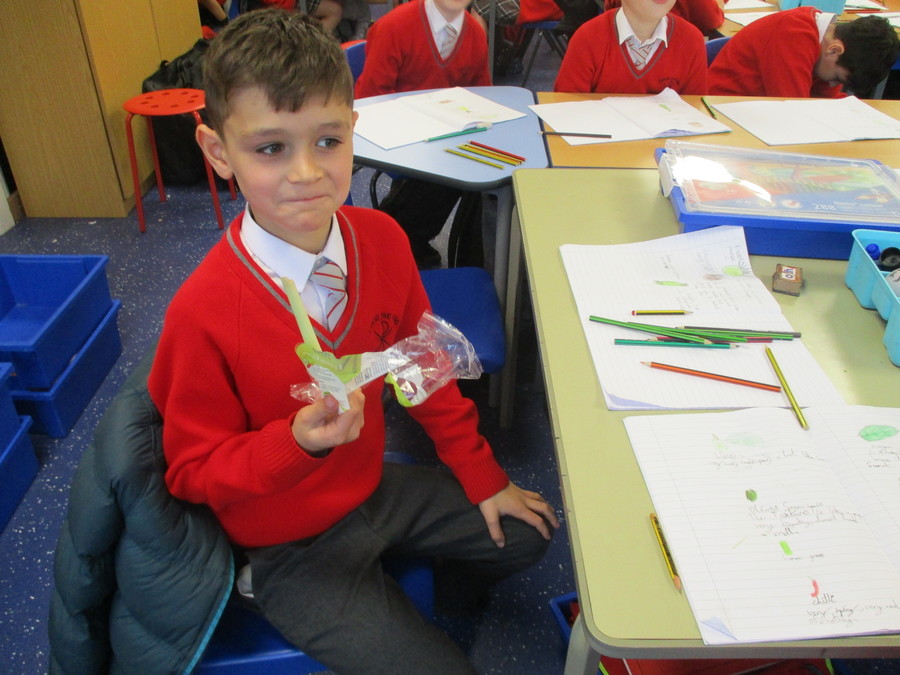 What a mix-up!
Sort things out!
Today we added to the chaos of temporary classrooms by getting messy in science.
Mr Overton was about to transport some vital cake ingredients in his tin, but accidentally dropped it. The caster sugar, cocktail sticks (or toothpicks, as I was told), mini-marshmallows ( or mellows), hundreds and thousands and soft shimmer pearls were irreversibly mixed. Or so we thought...
The children cleverly improvised various sieves from hessian, netting, sacking and other fabrics to sort the substances back into separate pots. How clever!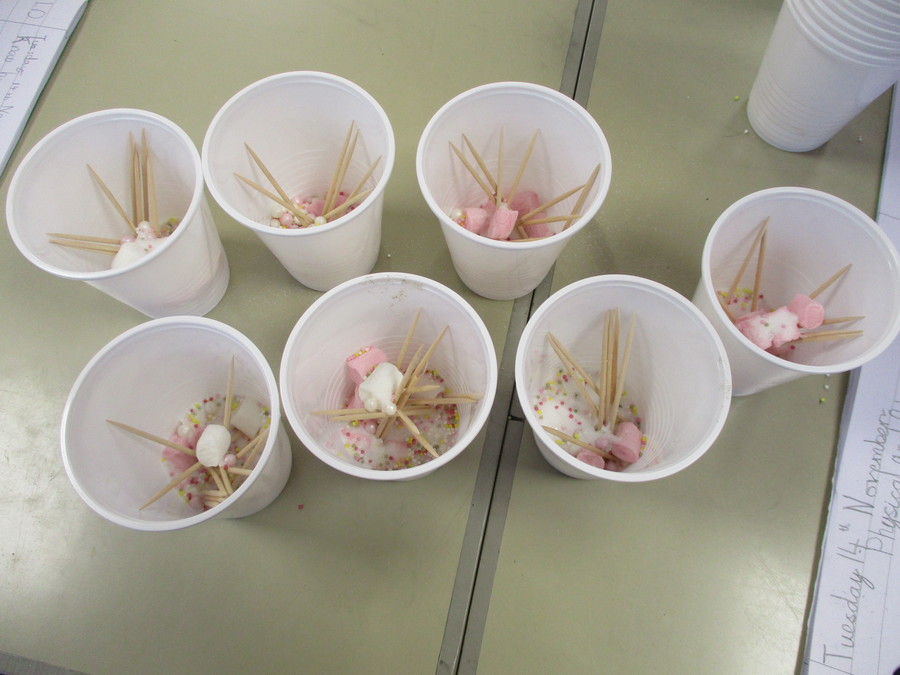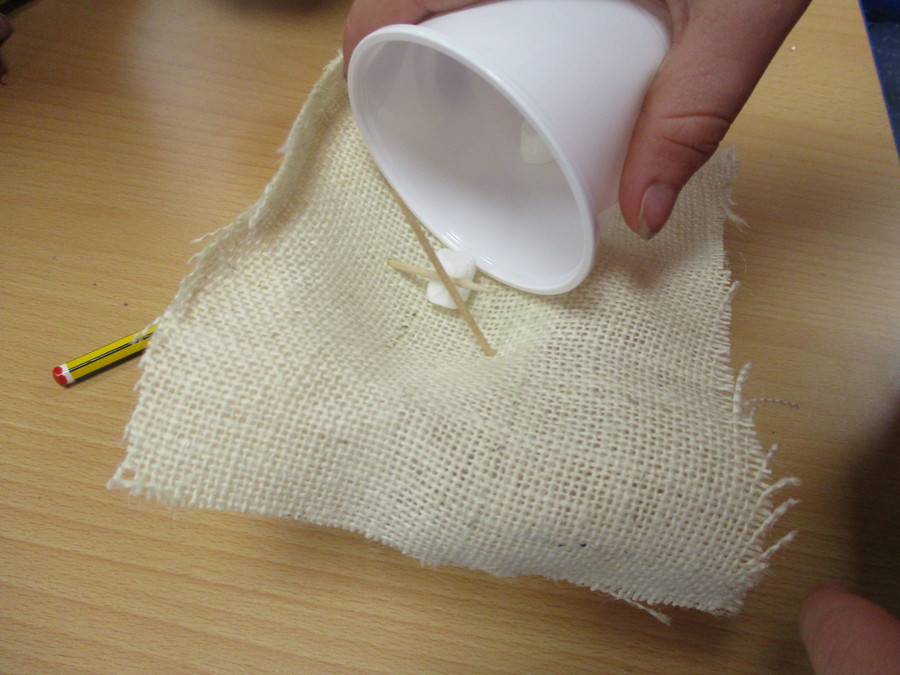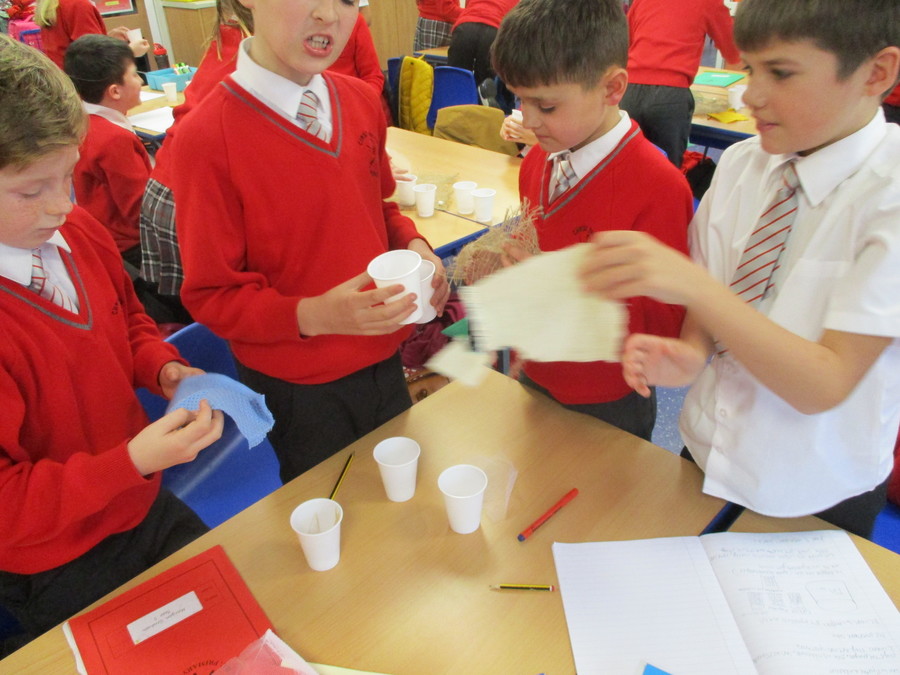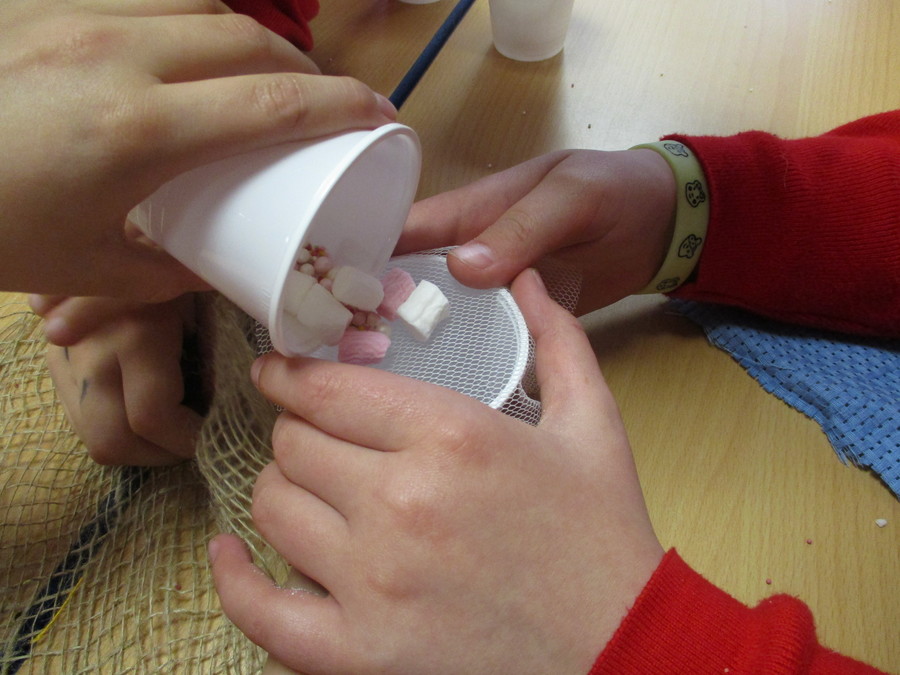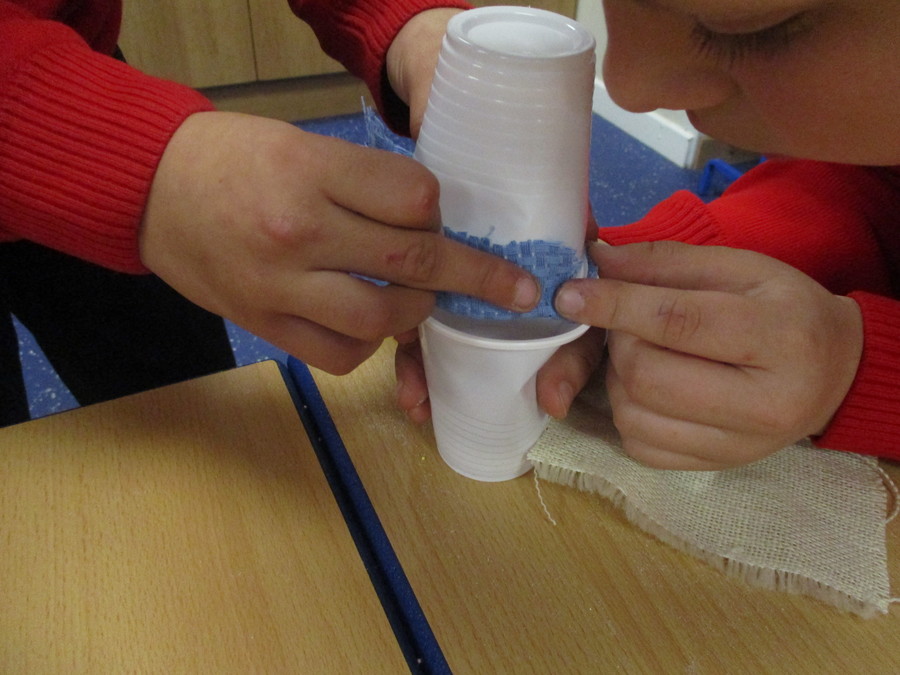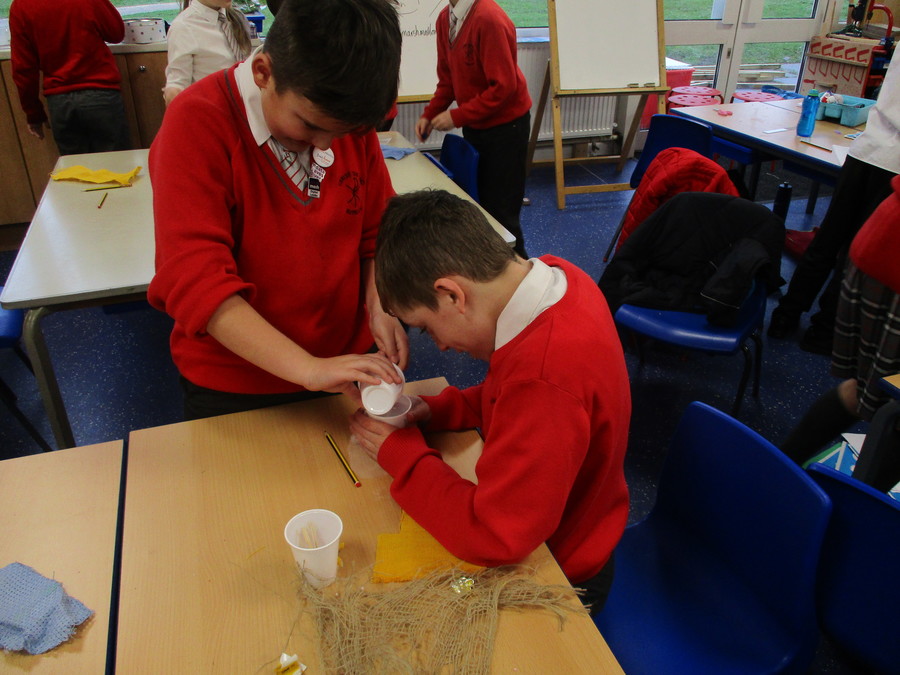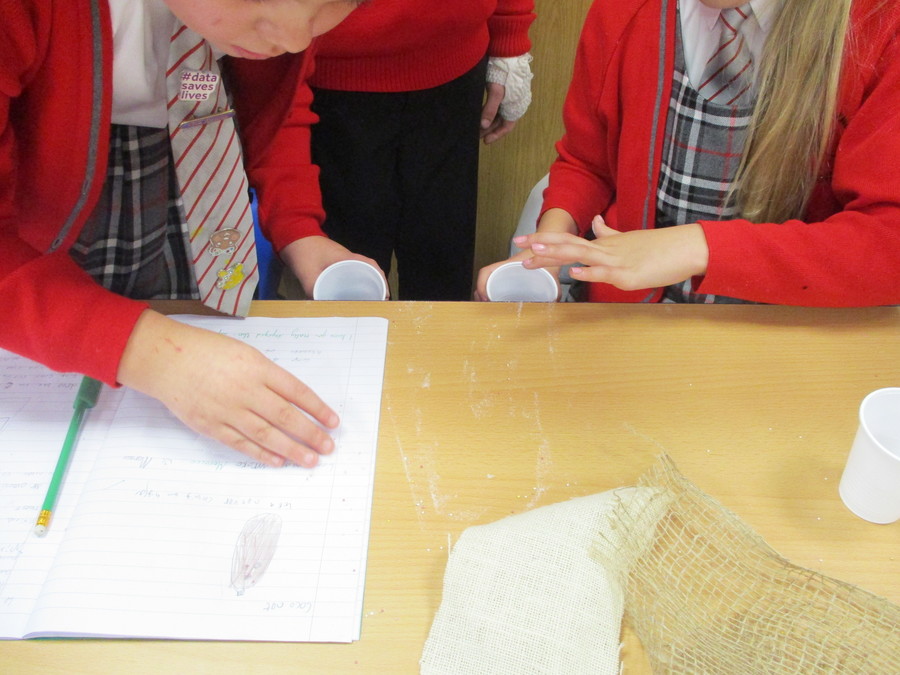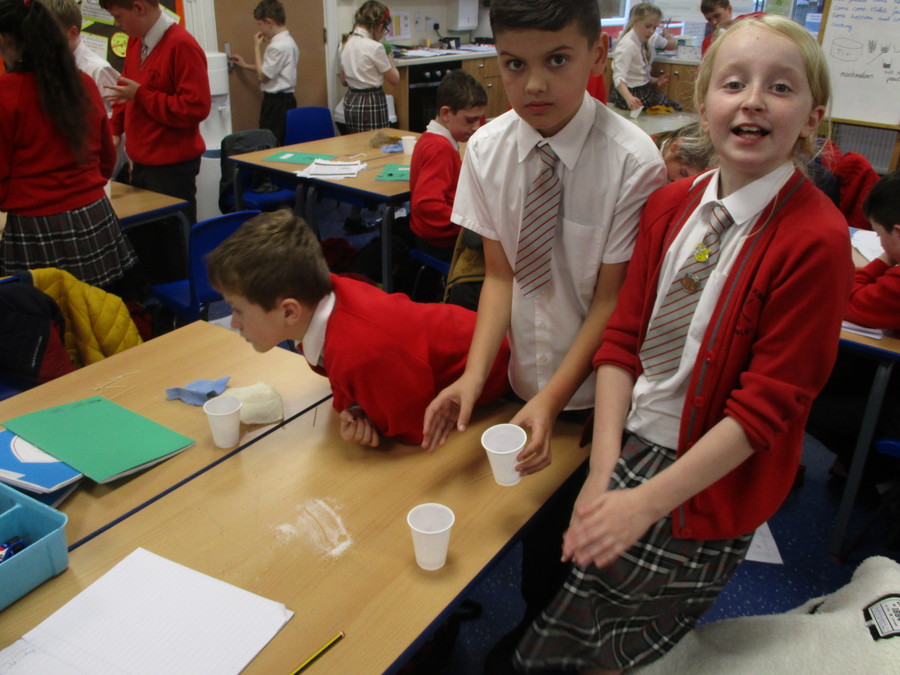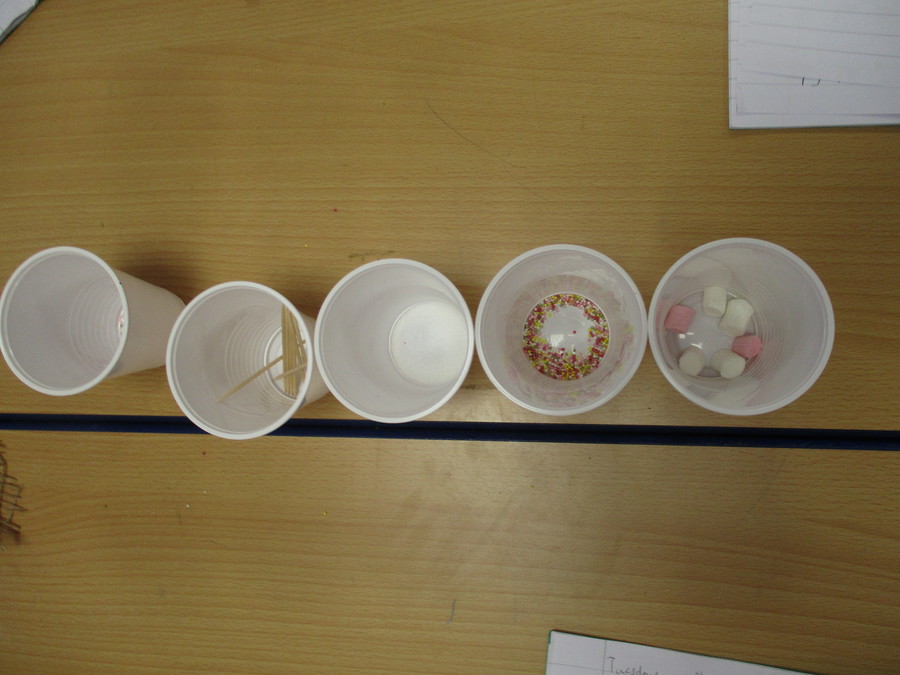 This half-term we begin with a study of some classical poetry.
This week we studied The Walrus and the Carpenter, a famous poem from Alice Through the Looking Glass (1871) by Lewis Carroll (real name Charles Dodgson).
Here, the children came together after group study to perform a class rendition, focusing on speaking clearly, fluently, audible and with good register.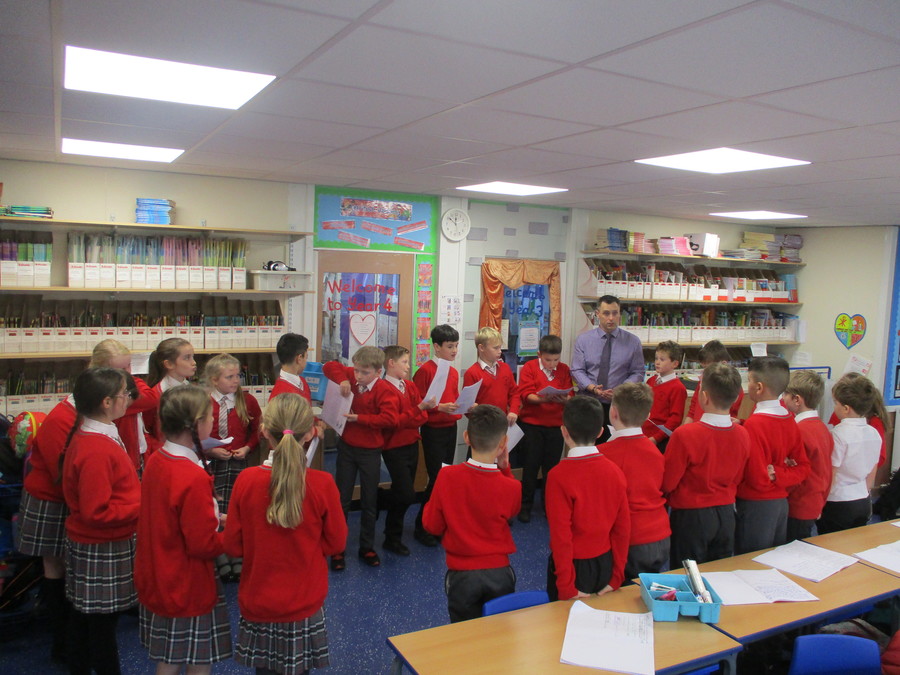 INVASION!
Look out! The Anglo Saxons have arrived in force at Christ the King. We're doomed!
Mrs Stansfield tried to fend them off, but was outnumbered. They were too fearsome, and were even joined at one point by a mysterious tall warrior who was indeed formidable.
Run for your lives!
No Pens-day Wednesday!
What a day we had without our pens!
"Can we do that every week?"
"Today was awesome!"
We began with a shape game: The idea was to design a simple picture using shapes behind a screen, and then describe it to others while they tried to copy it. Some were better than others...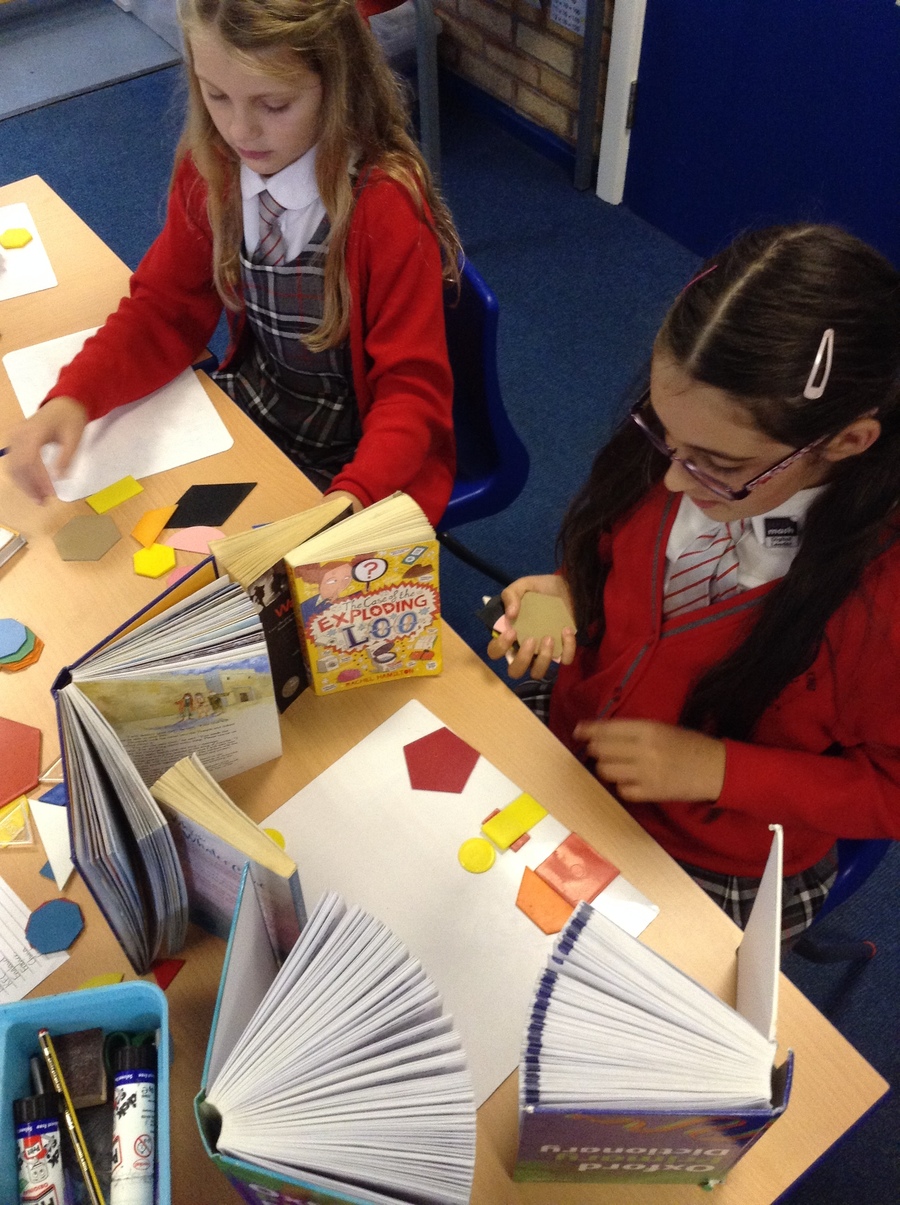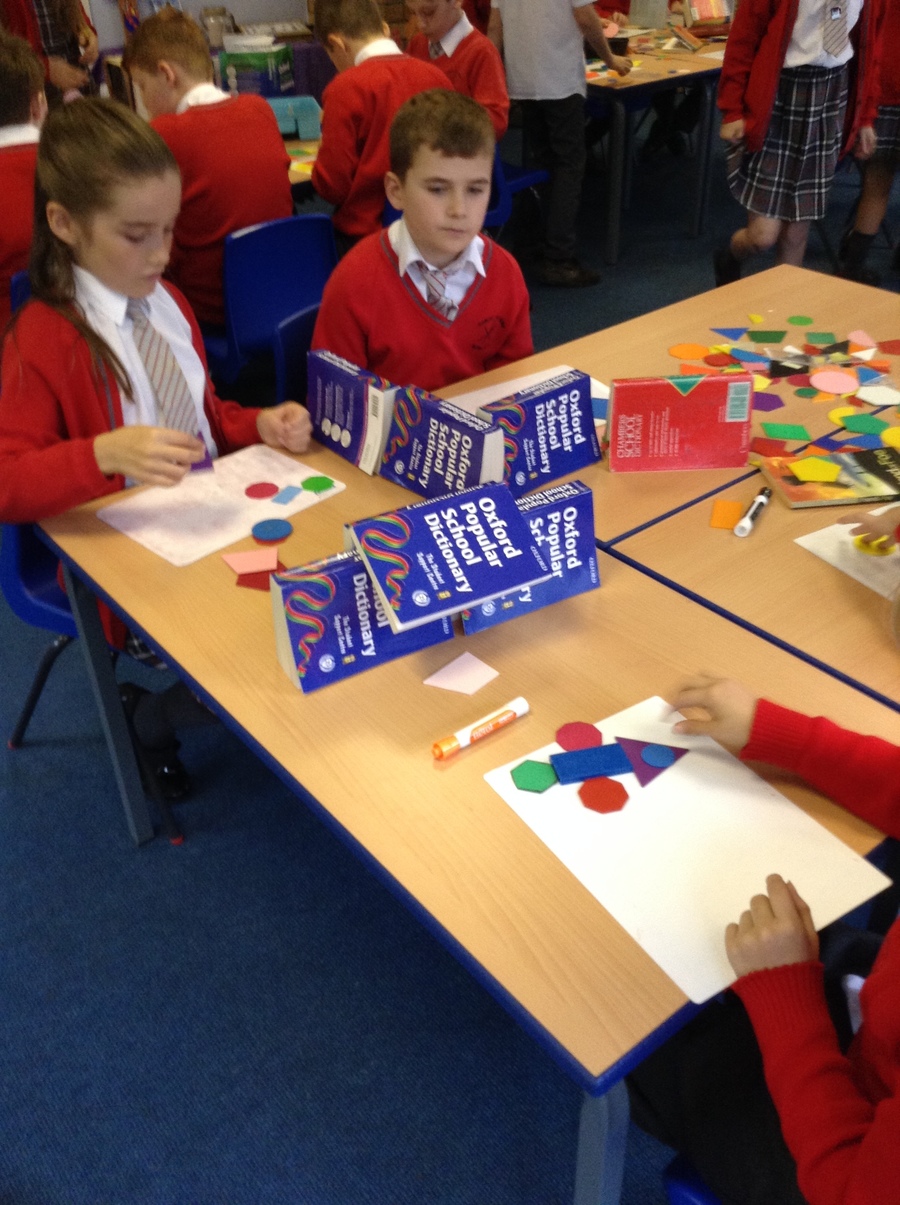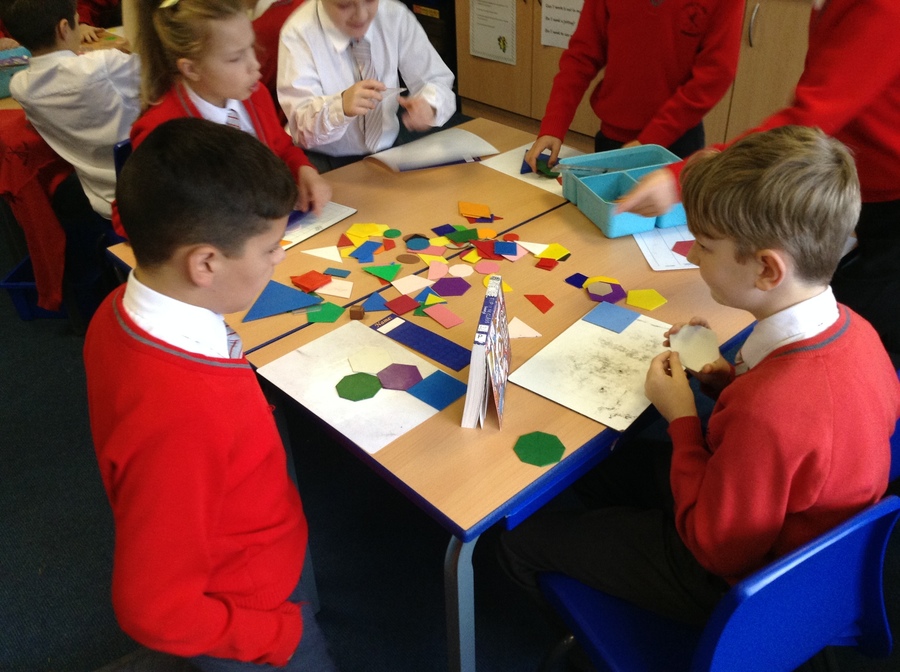 Next, we had a go at acting...
The children got into groups and picked a short section from 'Friend or Foe' to present to the rest of the class. Results were terrific.
After a few rather funny circle games that included 'Musical Chairs Using Cards' and the now-famous 'One Green Frog Jumped Into the Pond Splosh', we had a go at...
SILVER FOIL ART.
We loved it!
Living on a prayer.
The children are proud to present (I think) their rendition of this Rock Anthem by Bon Jovi.
We are learning to play the Glockenspiels too - see the second video!