Tesco hand over the cheque!
Tesco hand over the cheque!
14 March 2017 (by Lisa Clegg (admin))
Billie visits CTK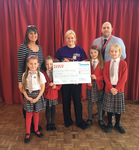 This afternoon Billie-Jean Horne, Burnley Tesco's Community Champion visited Christ the King to officially present us with the £10,000 cheque for our Tesco Bags of Help Peace Garden Project. Mrs Connolly and some of the after school club children showed her the finished area. Billie agreed the area was an excellent addition to our school. Billie informed us that the Burnley Extra Store has given out a staggering £68,000 this year to help local community projects just like ours. This is all money that has been raised by shoppers who buy the 5p carrier bags in-store. Mrs Connolly along with the Friends of CTK are planning an official open day for our project with an announcement to be made shortly...watch this space!