Children In Need Day
Children In Need Day
17 November 2017 (by Lisa Clegg (admin))
Another record breaking amount!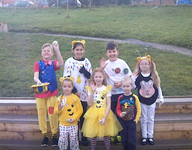 We have raised another record breaking amount - this time for Children in Need!
All week, we have been busy selling the Pudsey & Blush badges, keyrings and wristbands and we have finished the week with our non-uniform and morning break cake sale! Our current total stands at £500.00 and we still haven't finished!
We have some cakes available to buy after school along with the Pudsey wristbands and key rings. These will be available on the school yard at home time today.
Thank you to all the children, parents and staff who have sent in buns, dressed the children up, bought Pudsey merchandise, but above all thank you all for your generosity this year.