Lent / Easter 2021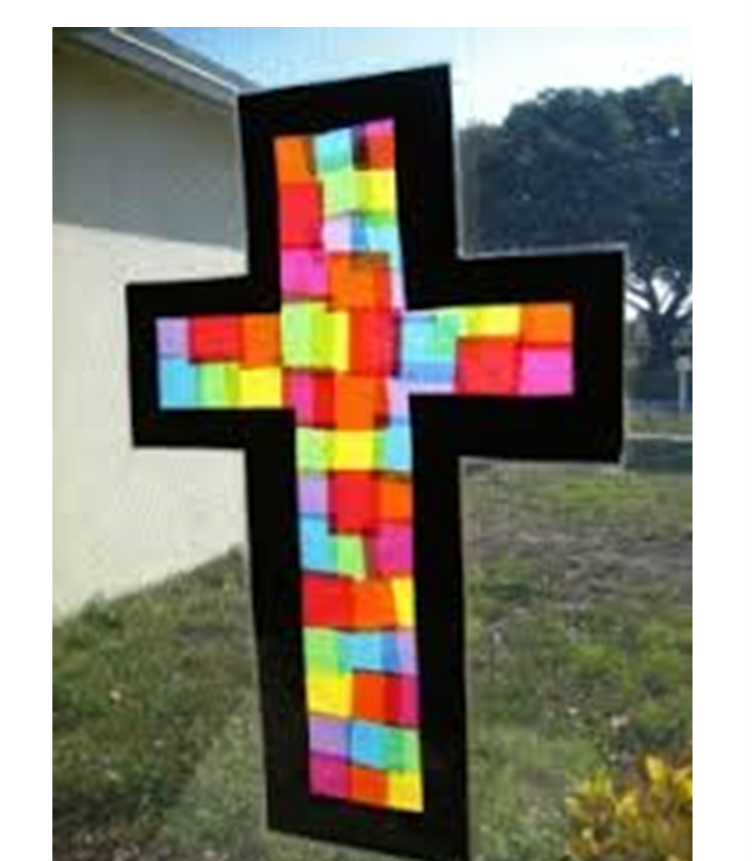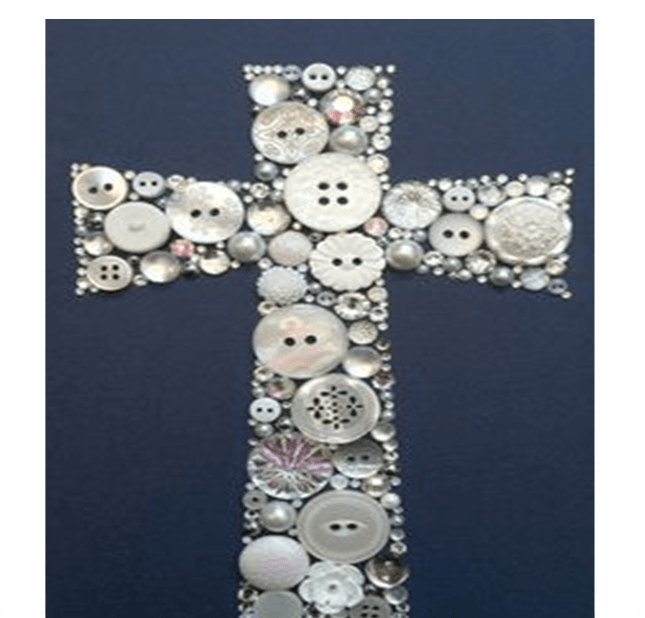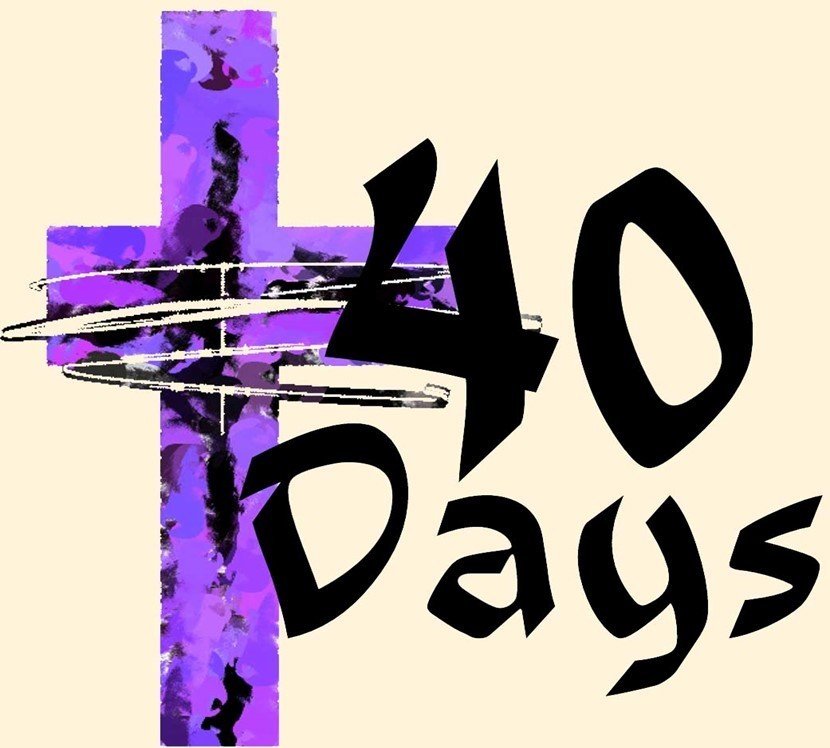 Lent 2021
The Lent 'Cross for Christ' challenge is back again this year. Last year, 'Lockdown 1' impacted the entries in school but this year I would like this to come back with 'BANG' – not literally of course but with some truly amazing entries. The completed crosses will need to be in school to be judged by Monday 29th March and the winners revealed (3 in each class) on the last day of term (1st April). There will be an Easter egg for all winners and a smaller egg for every entry.
We would like children to be creative, to be adventurous, and decorate their own cross at home – past entries have been truly amazing and made from shells, grass, and even twigs. Your cross can be made out of anything. I have put some examples at the top of this page.
Crosses need to be no bigger than a piece of A4 paper so these can go on display around school. There are some ideas above but you can find others on websites such as https://uk.pinterest.com/explore/cross-crafts/ OR Google – craft crosses for kids (Google images)
Lent tree
I know some of you are learning at home, but we want all children to be involved in our Lent tree. In your learning pack, you will find two leaves. We would like children to write a Lent promise and /or prayer and bring these back to school. I will then add these to our Lent tree which will be outside the main office. It would be lovely to see our tree grow throughout Lent.
Acts of Kindness
I am sure you will all agree, we are all going through a very challenging time at the moment and a simple act of kindness can completely change how a person feels. During Lent this year, we would like children to focus on being kind to others by showing their appreciation and love in 40 different ways. In school and through home learning, we will over the next few weeks look at how a simple act of kindness can make others feel.
Each child will be set a "40 acts of kindness challenge" to be completed at home and in school. All children will be given a kindness chart to tick and date which should be returned to school by Thursday 1st of April. It would be lovely to see examples of children's acts of kindness and I will display these around our Lent tree. Please send in examples- these can be drawings, photographs, thank you messages. These on in your child's learning packs.
Charity work
Due to the pandemic, our usual support for St Joseph Penny Appeal will be slightly different this year – there will be no boxes sent home. The St Joseph Penny Appeal started in 1904 so we thought if we could ask parents to collect loose change in a plastic bottle or box – children could decorate these at home. It would be fantastic if families could raise £1.90 or £19.04 which may enable the school to collectively raise £190.40. We will put all donations into 'isolation' before these are sent to the charity.
Many families are going through tough times financially at the moment and as an extra act of kindness, we will be collecting for our local food bank during Lent. Food can be dropped off at the entrance of school from Monday 22nd March until 1st April – no perishables, please.
Easter Garden competition
This year, we thought we would ask children to create their own Easter garden. This can be something that the whole family can get involved in. There will be 1st, 2nd and 3rd prizes in each year group. Entries need to be in school by Monday 29th March. I have put some examples below but you will be able to find many more on the internet.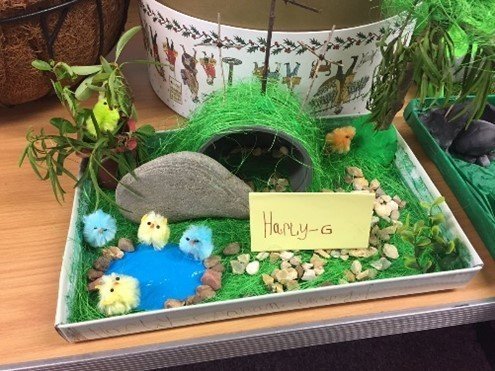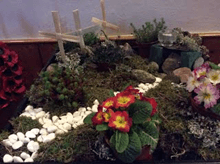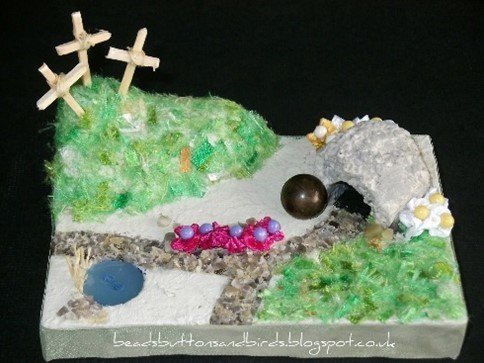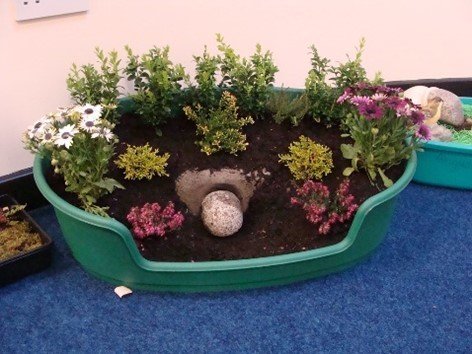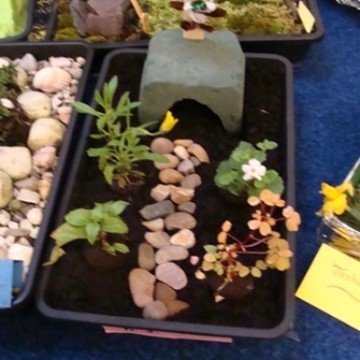 We cannot wait to see the children's work.
Take care
Mrs. Webster