Year 3 Home Learning
Welcome to Year 3's Learning Page
Date: Monday 8th February - Friday 12th February
Good Morning Year 3!
As a team we have made it to the last week of this half term. Last week you all worked extremely well and you all produced some amazing work. We loved seeing all of your pictures of you all making cakes (it made us very hungry) and the amazing descriptive stories all about monsters. Thank you and lets make this weeks work even better!
This week we are starting a new literacy topic all about characters! This year, so far you have written about many different characters from Mr and Mrs Twit to monsters from last weeks work. You need to try and remember all of these amazing characters and also remember any characters you have read about!
This week we will be holding additional zoom sessions. In all packs you will find a letter detailing the changes. Below is an adapted version of the letter without teachers zoom codes. If you need a copy of the original letter please email our class email and we will send it to you.
Please try to log on to Timetable Rockstars (TTRS) and Active learn daily- we have allocated several books and math's games for you to complete. We will be checking weekly to see who has logged on and who is a time table wizard!
If you have any questions about your home learning or you want to send in your completed work including pictures please send them to your class email - I will check this regularly.
Your home learning packs are ready to be collected from school today.
Take care and have fun.
Miss Shakespeare, Miss Poole, Miss Lincoln and Miss Parkinson
English
This week is all about exploring characters from different stories and finding new vocabulary. At the end of the week, decide which character is your favourite and make your own top trumps!
In your packs, I have made daily worksheets corresponding to this weeks literacy plan (linked above).
Thursday Text (Same as Wednesday)
When following links online, parents should monitor that children are remaining on that page only and are keeping safe online.
Comprehension
This week we will explore and delve into Chapter 4 of the story 'Stig of the Dump'.
Chapter 4 Questions and Answers
Spellings
Please practise your spellings for 10 - 20 minutes every day. Try looking the words up in a dictionary and then put them into sentences. If you haven't got a dictionary at home, ask your Mum and Dad if you can use an on-line dictionary using this link Britannica kids dictionary
Spellings for week commencing 01/02/2021
possession

obsession

version

division

occasion

pressure

treasure

pleasure

enclosure

leisure
Maths
We will be starting a new topic this week in math's - mass and capacity. This is a fantastic topic to cover as we can learn in a practical way. You could measure lots of different things around the house! You could bake - as you need to measure all the different ingredients to make your cakes scrumptious!!!
Monday
Tuesday
Tuesday - Independent Activity
Wednesday
Wednesday - Independent Activity
Thursday
Today I would like you to complete an addition problem questions worksheet.
Friday
Like Thursday I would like you all to complete a subtraction problem questions worksheet.
Don't forget your timetables too. I have included some extra sheets for you to practise at home daily. Good luck!
Science
For science this week I want you all to have some practical fun. In your home learning packs I have included a variety of fun science investigations for you to complete (attached below). Please send us some pictures of yourselves completing some of these activities to our class email.
History
In history we are going to be learning all about the Romans! This week I would like you all to write a letter as if you are a Roman Soldier. You are protecting England from 'The Picts' and are away from your family. You are based at Hadrian's Wall! Remember to use emotive language and write questions to your loved ones in your letter.
Computing
This Tuesday is Safer Internet Day 2021
The theme this year is - An internet we trust: exploring reliability in the online world
This year we are running a competition.
First, read Smartie the Goldilocks story by clicking on the image below.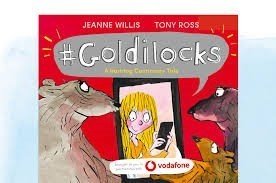 Also visit Mrs Webster's Safer Internet page for more useful links. Click here
Then choose one of the activities below
Write your own fairy-tale about an online safety issue. Think about the villain in well known fairy tales and change the story to an online safety problem.
OR
Make a Safer Internet poster. Think about what you want people to know about keeping safe online – could be linked to all ages depending on content of poster.
Remember this is a competition. One prize will be given to each class. Please send in your child's entry to your class email or leave at the school office. These will be judged by Mrs Webster on Friday 12th February 2021.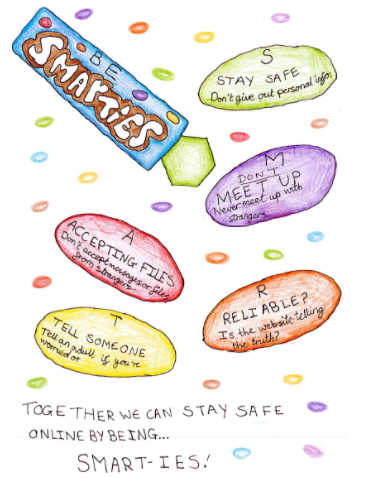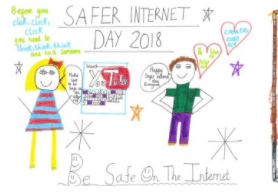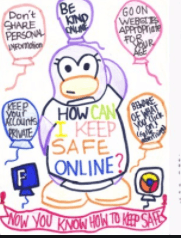 PE
This week the curriculum PE lesson is orienteering. Click the click below to access the lesson.
Curriculum PE lesson Week 5 - Gymnastics (Junior)
Why not try one of the activities/lockdown lessons from Burnley School Sports Partnership? Remember you can email me some photographs and videos!
Why not try some of Mr Ashworth's video activities on his Home Learning Page!
Learning Links
Active Learn - Please note that Active Learn does not work with Safari browser - please use Google Chrome to access