Year 6 Home Learning
Welcome to Year 6's Home Learning Page
Date:
Monday 8th February - Friday 12th February 2021
Message
Hello Year 6!
School is very quiet without you and we are missing you all very much - we cannot wait for things to get back to normal!
Keep working hard Year 6, but also make sure you weave some down time into your day. Try not to worry too much if some of the work seems hard - we will resolve any problems when you are all safely back in school. And one other thing: please show some appreciation for your mums and dads who are doing such a great job helping you with your home learning.
This week, we would like you to attempt the Maths and Literacy activities each morning. For the other subjects, try the RE on Monday, Art on Tuesday, History on Wednesday, ICT on Thursday and Science on Friday.
If you need any help, or if you want to send in your completed work including photos, please send them to your class email which will be checked daily y6@king-pri.lancs.sch.uk
Don't forget, packs of work are available from school if you prefer to use paper copies.
If you have left your spelling files at school, these will also be available for you to collect.
Have fun and stay safe everyone,
Mrs Kelly and Mrs Room
Literacy
This is the second week of our work on climate change. This week focuses on calculating your own carbon footprint, exploring how climate change affects the Arctic and how this is impacting polar bears.
Click below for everything you will need.
Spelling:
Please follow our school spelling scheme. Don't forget, if you don't have your spelling file at home it can be collected from school.
This week, we are working on the spellings for the week beginning 08.02.2021
Guided Reading:
This week, we will continue working from the text we began a week ago. Work on this three times during the week, and remember to ask an adult to help you if you find any parts of it tricky.
Maths
This week we are revisiting division, with a focus on long division.
Keep all your mental skills sharp by attempting the 4 a Day challenges at the start of each lesson. Also, don't forget to learn your multiplication tables - concentrate this week on the 8 x tables and the associated division facts.
Religious Education
Lent will begin during half term on 17th February, which is Ash Wednesday. Your RE work this week aims to get us ready for this important time in the Church's year.
Below is a link to daily prayers which you may like to say at home with your family.
Science:
This is the final week of our work on microorganisms, and we will mainly be looking at the results from our investigation and drawing conclusions from these results.
ICT:
This Tuesday is Safer Internet Day 2021
The theme this year is - An internet we trust: exploring reliability in the online world
This year we are running a competition.
First read Smartie the Goldilocks story by clicking on the image below.
Please also visit the Mrs Webster's safer internet page for more useful links. Click here
Then choose one of the activities below
Write your own fairy-tale about an online safety issue. Think about the villain in well known fairy tales and change the story to an online safety problem.
OR
Design a 'mascot' that could be used to promote Safer Internet Day around the world
OR
Make a Safer Internet poster. Think about what you want people to know about keeping safe online – could be linked to all ages depending on content of poster.
Remember this is a competition. One prize will be given to each class. Please send in your child's entry to your class email or leave at the school office. These will be judged by Mrs Webster on Friday 12th February 2021.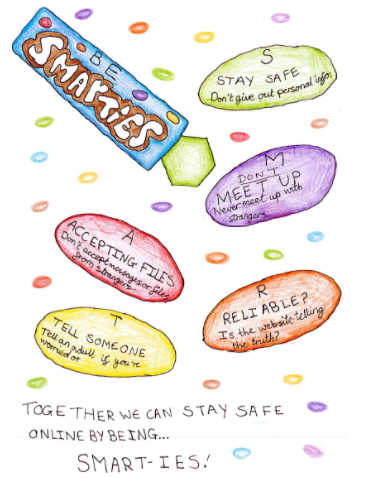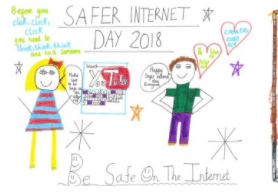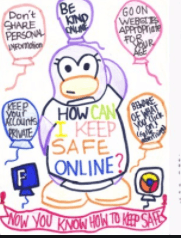 History:
The resources you will need for Wednesday's lesson are below:
Art:
Today you can choose to be Andy Warhol or Roy Lichtenstein and create your own Pop Art style using your own chosen media. Please email in to us.
PE:
This week's PE lesson focuses on gymnastics.
Learning Links
Active Learn - Please note that Active Learn does not work with Safari browser - please use Google Chrome to access