In the Autumn term we studied the three themes of Domestic Church (Family), Baptism and Confirmation (Belonging) and Advent and Christmas (Loving). Each class approached the themes through different topics.
Please click here for further information.
RE in Reception
Autumn
The first theme that we studied was 'Domestic Church'. In Reception we looked at the importance of our name and that God knows each person's name and we understand that God knows and loves each one of us. Below are examples of our work.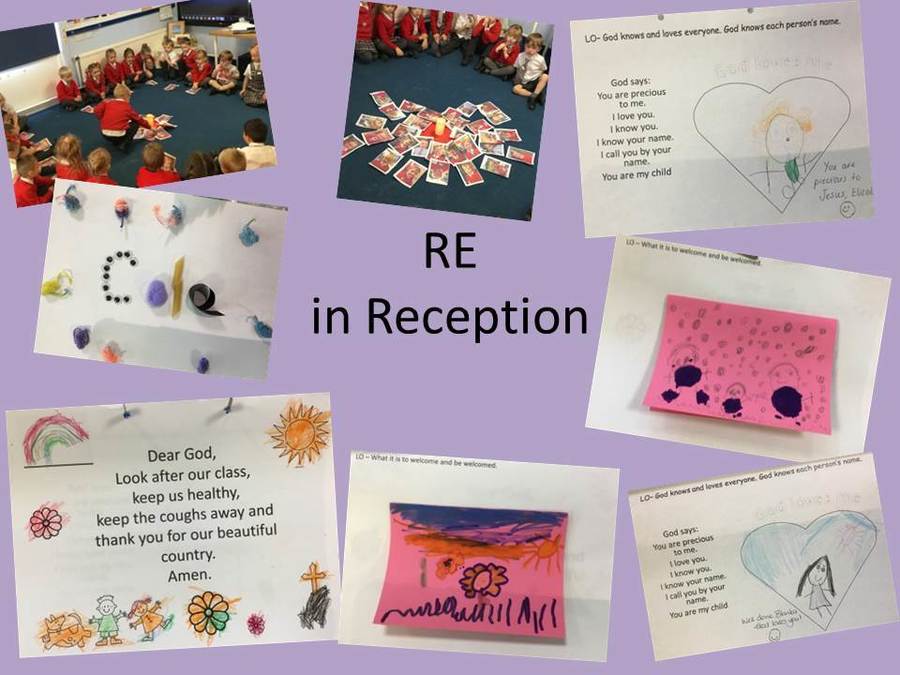 RE in Year 1
Autumn
The first theme that we studied in Autumn was 'Domestic Church'. In Year 1 we looked at families, including God's love and care for every family. The following photograph slideshow shows the sequence of our learning.
The second theme that we studied in Autumn was 'Baptism/Belonging'. The Year 1 learning outcomes for this unit were to know and understand:
• About belonging to different groups.
• That Baptism is an invitation to belong to God's family.
The third theme that we studied in Autumn was Advent/Christmas - loving. The Year 1 learning outcomes were to know and understand:
• About the times that it is necessary to wait and the use of that time.
• That Advent is a time of waiting to celebrate Jesus' coming at Christmas.
We started by making a class advent calendar that contained 2 acts of kindness for each day of Advent. Then we made our own Advent wreaths.
RE in Year 2
Autumn
During the Autumn term we have learnt about the signs and symbols of Baptism and the preparations taken during Advent.
RE in Year 3
Autumn
Our first topic this Autumn was baptism, we explored how our lives are marked by many different experiences of being welcomed into new situations and groups. We looked at how, through Baptism, we are incorporated into Christ. The children re-enacted a baptism and explored the symbolism of the various elements. We then went on to explore the preparations taken for advent in the run up to Christmas.
During the Autumn Term, Year 4 covered the topics of:
Domestic Church
Baptism/Confirmation
Advent
We learned about Jesus' human family, including people such as Abraham and Sarah, Jacob and Esau, Ruth, Solomon, David and Joseph. We studied characters in the bible who were called by God and discussed how it must have felt. The children learned about the symbols and actions used at Confirmation and what it means to be called. During Advent, we looked at the symbols involved and used religious vocabulary to describe their meaning. We made links between scripture and our own behaviour.
Please see below to see some of our wonderful work!
R.E in Year 5
Autumn 1
We have been looking at how we share in the life and work of God through Baptism. We looked at commitment, vocation relationships and how St. Joseph has set an example for us to follow. As October is the month of the Rosary, we also looked at the key role of prayer within our faith.
Autumn 2
This half term we focused on the period of Advent. Advent is a time when we appreciate the love in our lives and prepare to celebrate love becoming a reality in the person of Jesus.
Autumn 1
In Year 6 , we have been studying the nature of unconditional love and the concept of forgiveness. In addition, we have continued our work linked to the Year of St Joseph, and we have studied Gospel stories which help us grow more like Jesus and to grow closer to God.
Autumn 2
This half term we have looked at commitment and how we need commitment to share the mission of Jesus. We have studied vocations, including the vocation of Jesus to spread the word of God, and how they demand dedication and commitment. More recently, we have studied this theme in the context of Advent, and how Mary, John the Baptist and Isaiah prepared for the coming of Jesus.