SPAR LANCASHIRE SCHOOL GAMES 2022
SPAR LANCASHIRE SCHOOL GAMES 2022
11 July 2022 (by Liam Ashworth (LAshworth))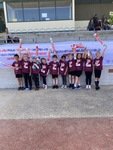 A huge congratulations to our CTK athletes who represented Team Burnley at last week's Lancashire School Games, at a sunny Stanley Park in Blackpool. It was an exciting, action - packed day of sport, with our children taking part in the traditional sports day event.
The children took part in a range of field events such as the long jump, vortex throw and beanbag toss, before heading to the track to tackle the egg and spoon, hurdles and sprinting events. The events focused on improving the athlete's personal best scores / times, and top quality coaching was delivered before they had their second attempts. We saw a huge increase in performance throughout the day. Well done everyone!
Just when the events had closed and we were ready for a well deserved recovery - the park burst into life and we were treated to a frenzied 'party in the park' - an amazing show of confetti, bubbles, dance, music and crowd participation - Mrs Thorley loved the boxercise! A great day was had by all! Our special thanks go to the Burnley SSP and the Spar Lancashire Games for organising such a memorable day!
A full gallery of the event, including photos of our other latest sports events, can be found on our PE homepage , under 'Latest News'