COMMONWEALTH SPORTS FESTIVAL 2022
COMMONWEALTH SPORTS FESTIVAL 2022
14 July 2022 (by Lisa Clegg (admin))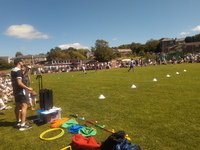 The sun beamed down, the music pumped out and the crowds cheered as the school field transformed into a buzzing athletics arena on both days of our annual CTK sports day festival.
We were delighted to welcome back spectators this year and put our sporting talents on display in front of a packed crowd of supporters.
Special thanks to everybody who was able to come and support in person – the festival atmosphere certainly inspired our young athletes!
This year saw a new format introduced, and we competed as six different countries in honour of the forthcoming 2022 Commonwealth Games, to be held in Birmingham. Scores were tallied for events such as the long jump, beanbag toss, bat and ball maze, push throw, and even the exciting Javelin throw!
Congratulations go to the winning countries of both events .....TEAM ENGLAND (KS2) and TEAM INDIA (KS1). Watch out for your prize from Mrs Webster!
Individually, there were medals on offer for the race events, and we finished the day with some exciting team relays! The KS2 three legged event was an eye-catching spectacle, whilst the KS1 event featured a special 'Crazy' race - where even some parents got in on the action!
From all the organisers we thank parents/carers again for supporting your child in this years' event and we say 'roll on next year'!
Check out the 'Latest News' section of the PE homepage for a selection of photos from the event.