School Uniform
The uniform that should be worn in school time at Christ the King is as follows: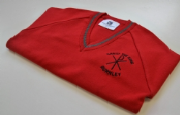 Boys: Red jumper, white shirt, tie, grey trousers/shorts, black shoes.
Girls: Red jumper/cardigan, white shirt, tie, plaid skirt, red/white summer dress, black shoes.
Year 6 - Same uniform as above but Black Jumper.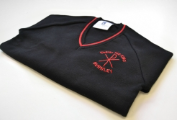 PE: White T-shirt, blue/black shorts, black pumps (indoor), trainers (outdoor).
Other: No jewellery (except a wrist watch), long hair tied back, no patterned, dyed or extreme haircuts. Christ the King red fleeces can be worn.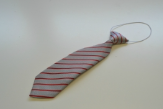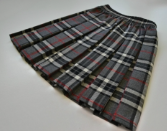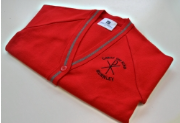 We have two suppliers of the school uniform
Whittaker's School Wear, Pendle Village Mill, Hollin Bank, Brierfield, Nelson BB9 5NG.
Website : http://www.whittakersschoolwear.co.uk/Christ-the-King-RC-Primary
Moonline, 33/37 Standish Street, Burnley, BB11 1AP. Tel: 01282 423030
Email: info@moonlineuniforms.co.uk
Pupils are expected to wear the school colours and children should be clean and tidy at all times. Children are not permitted to wear jeans or tracksuits in class. All children must have shorts and shirts for P.E. Additionally, children are discouraged from bringing valuable items and jewellery to school.
**Please ensure that all items of clothing are clearly marked with your child's name.**
The school will not unlawfully discriminate against any person on the basis of their ethnicity.
P.E. and Games
All children must have shorts and t-shirts for P.E. and in accordance with LEA guidelines, no adornments, including earrings and studs, are to be worn during periods of physical activity. Please note that the staff cannot be responsible for the removal, replacement or safe keeping of such items, apart from watches, which in some classes can be a useful item of school equipment.