BFC at CTK
Our BFCitC Coach
Rebecca Clough – Sports Development Coach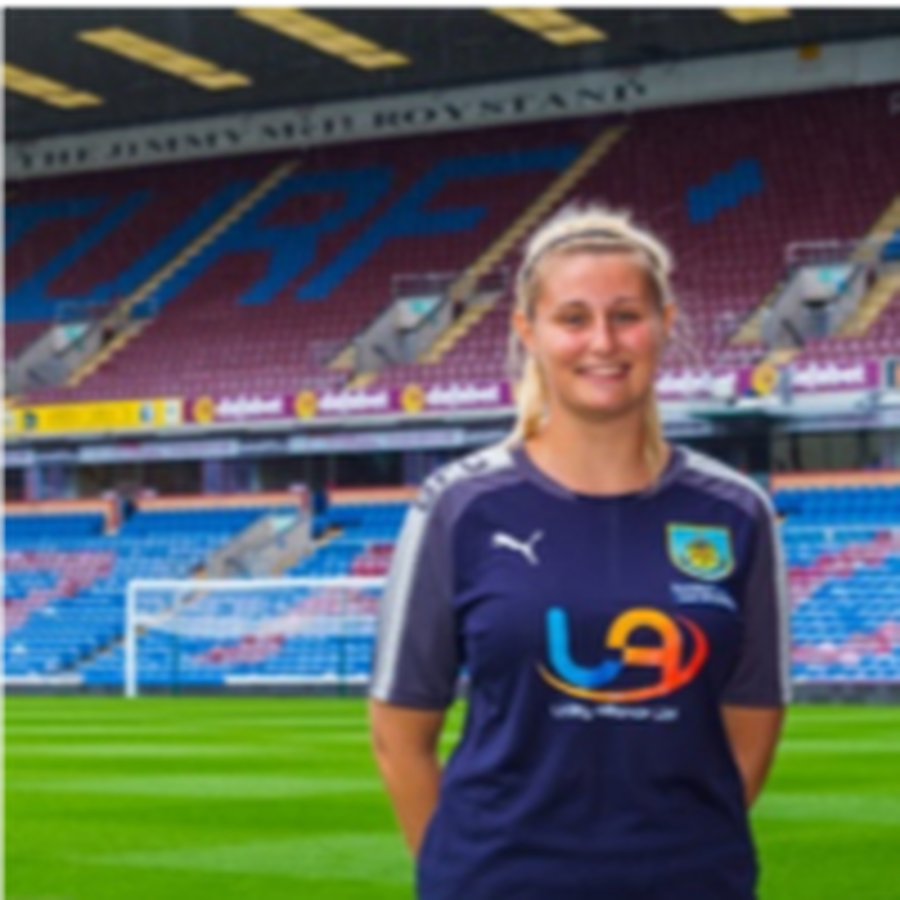 "It is always a pleasure coming into Christ the King RC Primary School, all the staff and children are very welcoming, and the children love taking part in all my PE lessons. The children work hard and love to be active. Christ the King as a school are big Burnley FC supporters and really believe in what the club and the community are doing, and it makes my job even more worthwhile". Coach Becky.
What BFCitC do within primary schools:
BFCitC visit CTK every Thursday to deliver a national program called 'The Premier League Primary Stars'. Premier League Primary Stars is the league's most ambitious project to date. It uses the appeal of the league and professional football clubs such as Burnley FC to inspire children to learn, be active and develop important life skills, with a view of supporting the development of children holistically and wholesomely. Fully qualified BFCitC coaches go into schools each week to deliver high standard PE lessons to all our classes.
BFCitC – Vision
To use the inspiration of the Burnley FC, Burnley FC in the Community and the Premier League to inspire all children across surrounding regions to learn, be active and develop important life skills.
BFCitC - Mission
To offer a world-class primary schools programme that uses the appeal of the Premier League and professional football clubs to improve and enhance physical education (PE) and other curriculum areas. We also look to develop skills and values that are crucial to success in later life.
Our Values

PE Lessons:
Each week Becky works with each age group delivering their PE lesson. All her PE lessons follow the National Curriculum criteria with links to the Premier League Primary Stars Program. Each half term (6-week block) Becky will challenge the pupils with a new topic (e.g.: invasion games, throwing and catching, dance, net and wall, striking and fielding, athletics) with each week's individual lesson having a learning objective/outcome that align to the topic.
After School Club:
Becky also runs an afterschool club consisting of different sports. She is currently running a girls only football club, but has run handball, netball, multi sports clubs that may of appealed to a wide range of children.
Visits:
CTK have been lucky enough to have some very special guests come into school from Burnley Football Club. We had the pleasure of meeting James Tarkowski and Matthew Lowton who are first team players for Burnley FC. Year 6 class had the opportunity to do a Q&A session with them to find out more about their professional career. After this the full school had the opportunity to ask questions to the footballers and be a part of a personal signing session.
More Information:
If you would like any more information about BFCitC and what they do within schools, please feel free to visit Burnley in the Comminutes webpage https://www.burnleyfccommunity.org/. Also keep an eye out on the school calendar to see what events and after school clubs Becky is running within school.