Sports Home
News
QUICK STICKS HOCKEY - SKILL FESTIVAL
11th March 2020
This week four enthusiastic members of our upper juniors took part in a quick sticks hockey festival at Thomas Whitham, where they were put through their paces by the SSP coaching staff, developing new skills and improving their existing knowledge of the game of hockey, The children gave great feedback after the event and really enjoyed the activities! We performed very well and represented school proudly! :)
News
CTK NEW ZEALAND ALL BLACKS IN ACTION!
9th March 2020
On Tuesday this week the year 5/6 Tag Rugby team donned their all-blacks attire and represented team 'CTK New Zealand' at the inter schools world cup rugby event!
Held at the Spirit of Sport centre, the team triumphed over three schools with two narrow losses in a thrilling tournament.
The players braved the driving rain and put in a real effort to stay organised and strong as a unit. What a wonderful sight to see all of the teams come together in celebration of the recent rugby world cup. Well done CTK!
News
TEAM CTK STAR AT INDOOR ATHLETICS MEET
11 February 2020
Our year 3&4 Indoor athletics team were recently in action at the Spirt of Sport centre, where they took part in team relay, sprinting and hurdle events. The athletes were also put through their paces in field events such as javelin and standing long jump.
We can be very proud of the performances the team put in and in particular the girls' relay team who stormed their team event!
News
FUNDAMENTALS SKILLS EVENT @ BURNLEY COLLEGE
10 February 2020
This week we attended the multi - skills session at Burnley College. We had a lot of fun trying new activities alongside the other schoolsand showing off our skills that we have been learning in P.E! Well done to all of the children who took part!
News
MEDAL SUCCESS @ GYMNASTICS COMPETITION!
29 January 2020


Team CTK were in action again today at the Year 3&4 gymnastics competition at the B.E.S.T Centre. All of our children competed fiercely in both the floor and vault events against 12 other schools.
Special congratulations to Lottie who took the Bronze medal in the individual girls award! Congratulations to all of our gymnasts!
News
MULTI SPORTS FESTIVAL FUN!
24 January 2020
On tuesday some of our lucky year 3 and 4 children were given the chance to take part in the multi skills festival at Sir John Thursby College. The children enjoyed a variety of skilled games, including bowling, tee ball and curling! Check out some of the action shots above! Well done all for representing CTK superbly!
News
TOTS ON TYRES HAVE A WHEELY FUN TIME!
24 January 2020
This term the reception children have been in action on the specially designed balance bikes, under the watchful of eye of coach Nicola , who has been very impressed with all the children who have had a go riding (and tumbling) around the hall in the tots on tyres sessions. Great job reception!
News
PE IN ACTION - ACTIVITY FOCUS
21 January 2020
Our new PE topics have been a hit with the children this term, and our busy programme of lessons have been complemented by session delivery from both the Bikability programme and Burnley Leisure.
Our key stage one classes have this term been working on their balance, agility and ball control skills.
Key stage two are currently enjoying swimming and invasions games acitvities. Children are being introduced to sports such as Target ball (modified handball) benchball, and basketball.
In year 5 & 6 (Pictured) we are learning respect and teamwork through competitive team games, and soon we will be hoping to devise our own games, before managing and playing the chosen games fairly and in line with set outcomes.
News
MEDAL - WINNING GYMNASTS TRIUMPH!
12 December 2019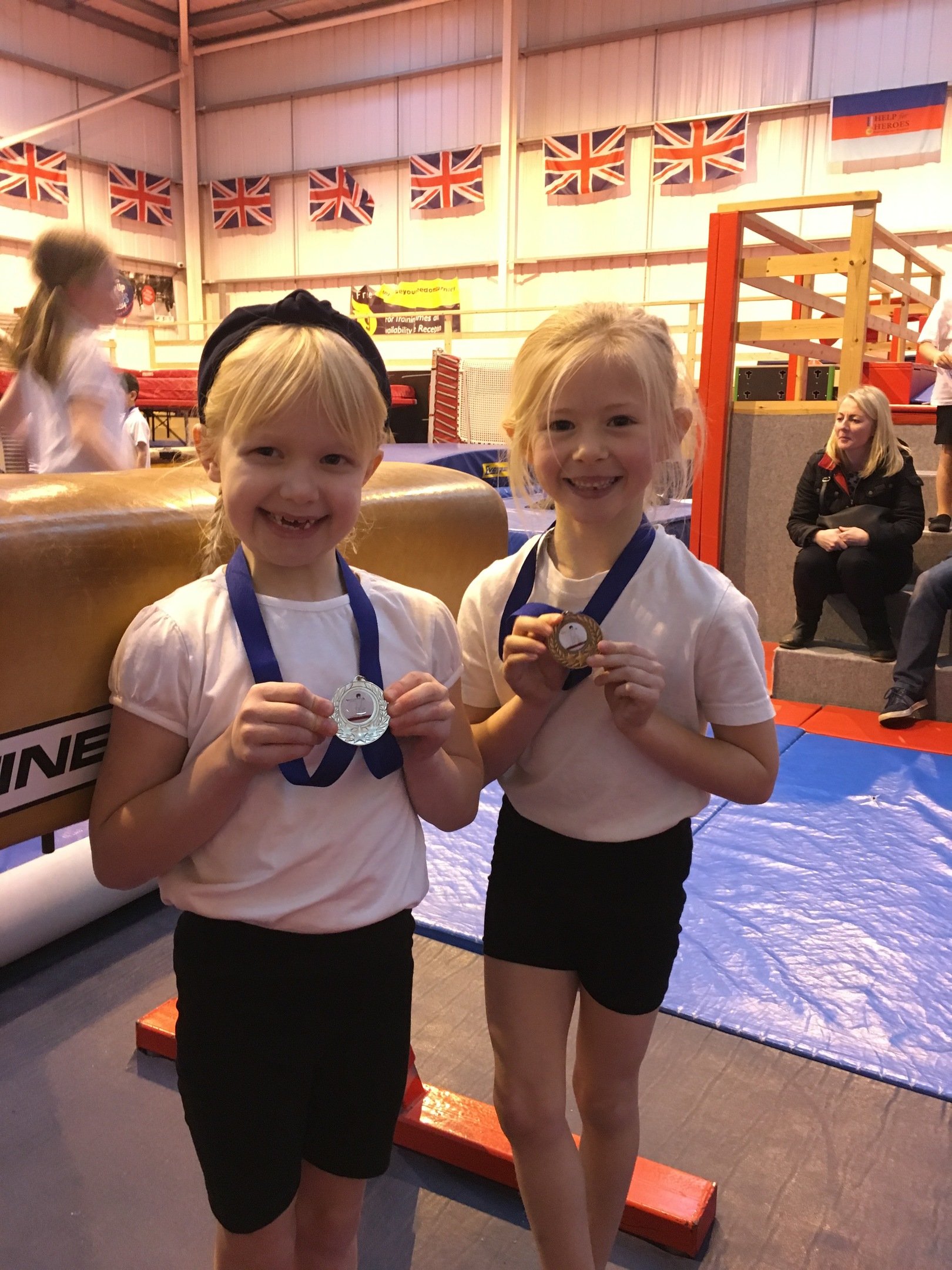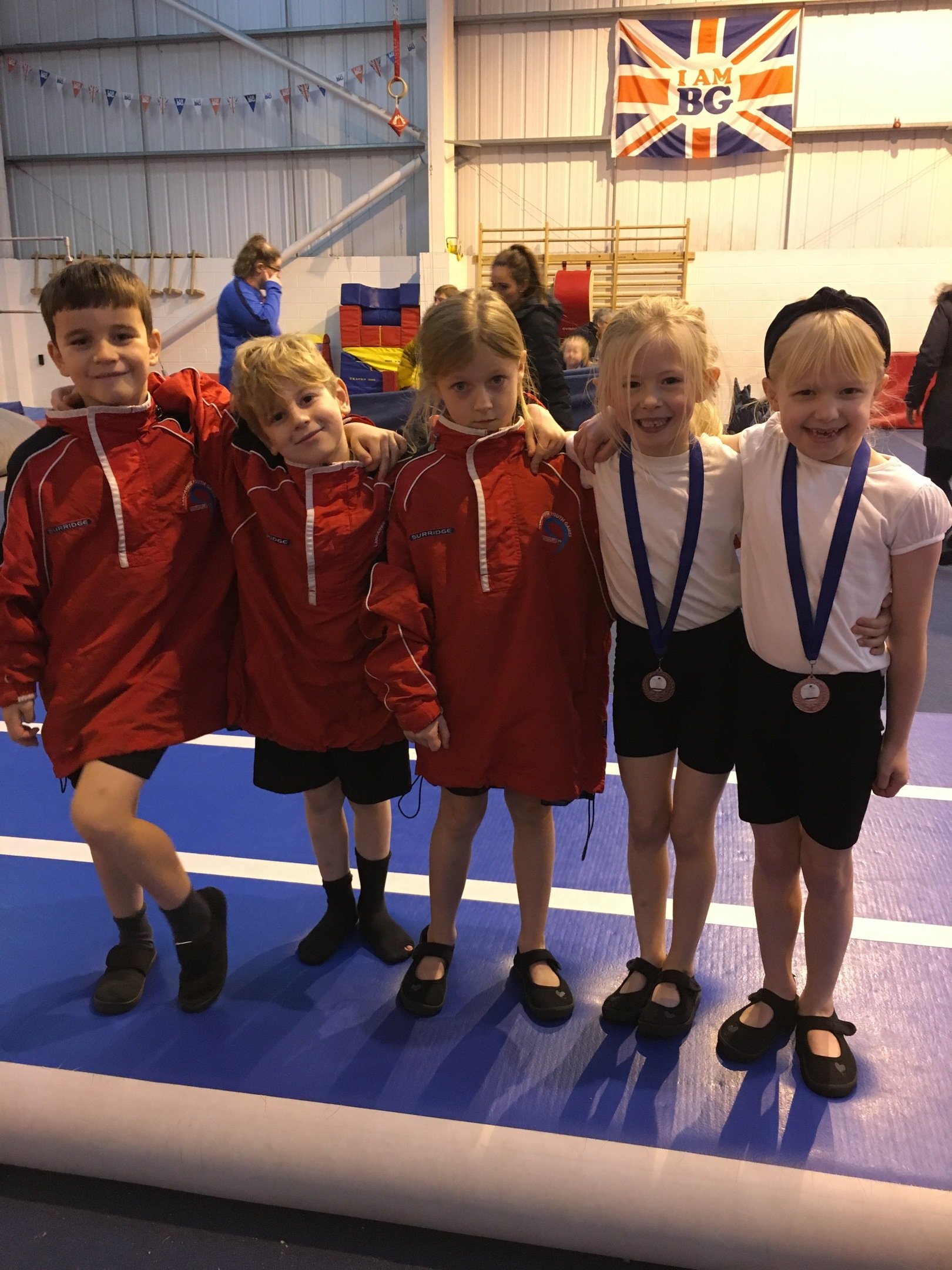 Five children from year 2 took part in the BSSP gymnastics competition at the BEST Centre today, and team CTK were amongst the medals!
Eva and Heidi particularly impressed the judges, and took home silver and bronze medals in the inidividual girl's section.
The hard work and practice the team had put in prior to the event paid off, as all of our gymnasts impressed with both our floor and vault routines. CTK were confirmed in 4th place overall, a well-earned result! Great Job!
News
U11 FOOTBALL - FINALS SUCCESS!
05 December 2019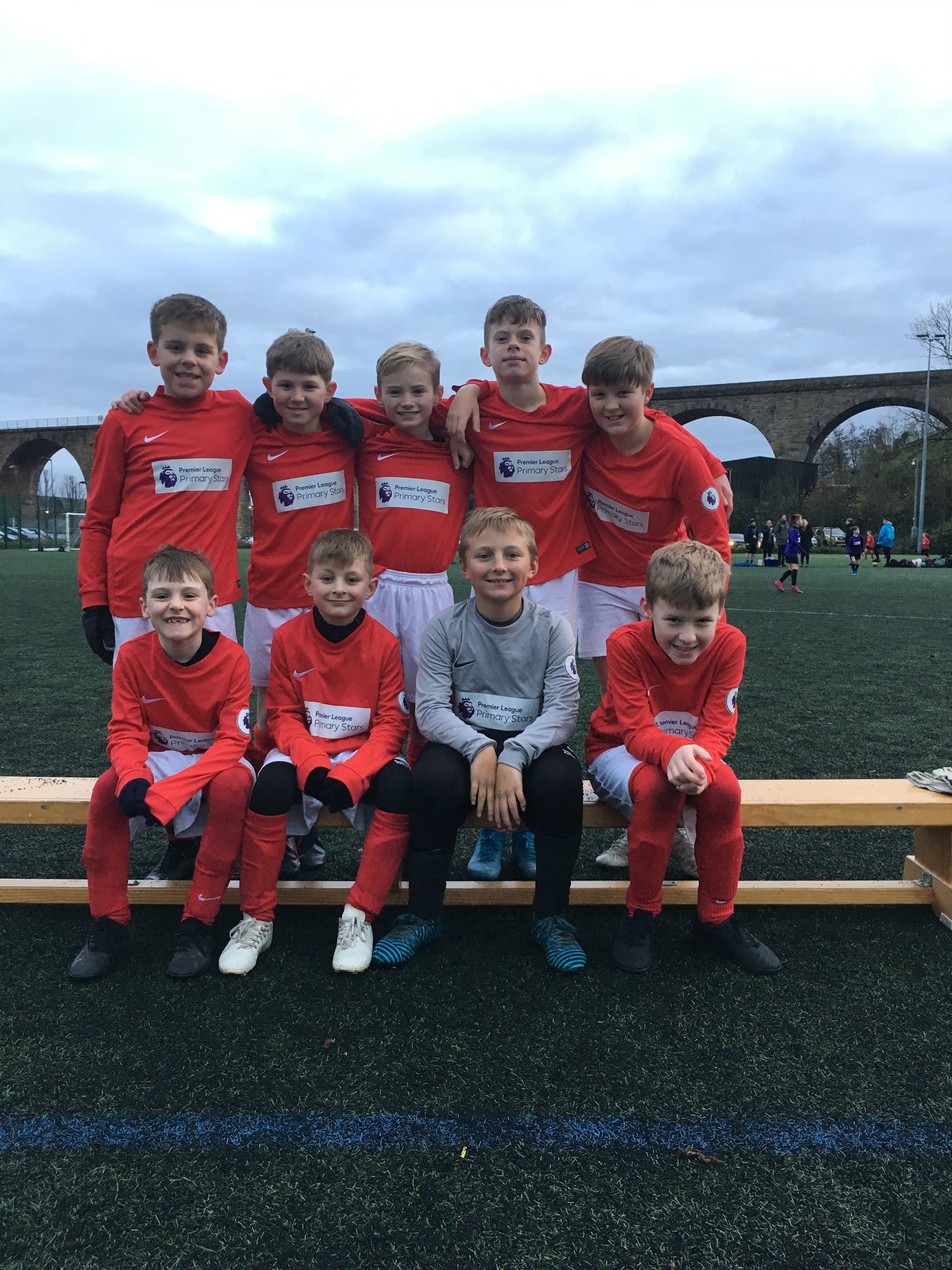 Burnley College played host to the Burnley Schools' U11 football finals last week.
Our CTK boys topped their group stage to progress to the later stages of the competition, where they faced tough opposition in the form of Briercliffe, St John's Burnley and Whittlefield school.
The team narrowly lost the first two games and came on top in the final fixture to finish third in their group. A super achievement overall and we can count ourselves very unlucky with some of the chances we created! Well done boys!
News
U11 FOOTBALL - FINALS SUCCESS!
05 December 2019
The year 5 and 6 CTK tag rugby team took part in a Burnley schools participation event this week at Sir John Thursby school.
Team CTK played three thrilling matches, winning two games and drawing a thrid to remain undefeated on the day. The squad had a mixture of playing experience but all performed very well against some very talented teams.
We hope the experience has ignited the players' passion for the game and with the Rugby World Cup in Tokyo kicking off this week, there couldn't be a better time to develop a love for the sport! Well done all.
News
CHRIST THE KING TAKE GOLD!
2 September 2019
We are delighted to announce that for the third consecutive year, Christ The King have officially been awarded the 'Gold' school games mark, for all our hard work in P.E and school sport. The award recognises the work we do to ensure all children are being physically active, are being inspired through engaging provision and are actively taking part in extra curricular sports sessions., We are also signposting pupils to further opportunties to be active outside of school within the local community and grassroot clubs.
If you know or are involved with such an organisation and would like to build a link with the school, please get in touch with Mr Ashworth via the school office. Thankyou and congratulations everybody!
News
Premier League Primary Stars Tournament
2 November 2018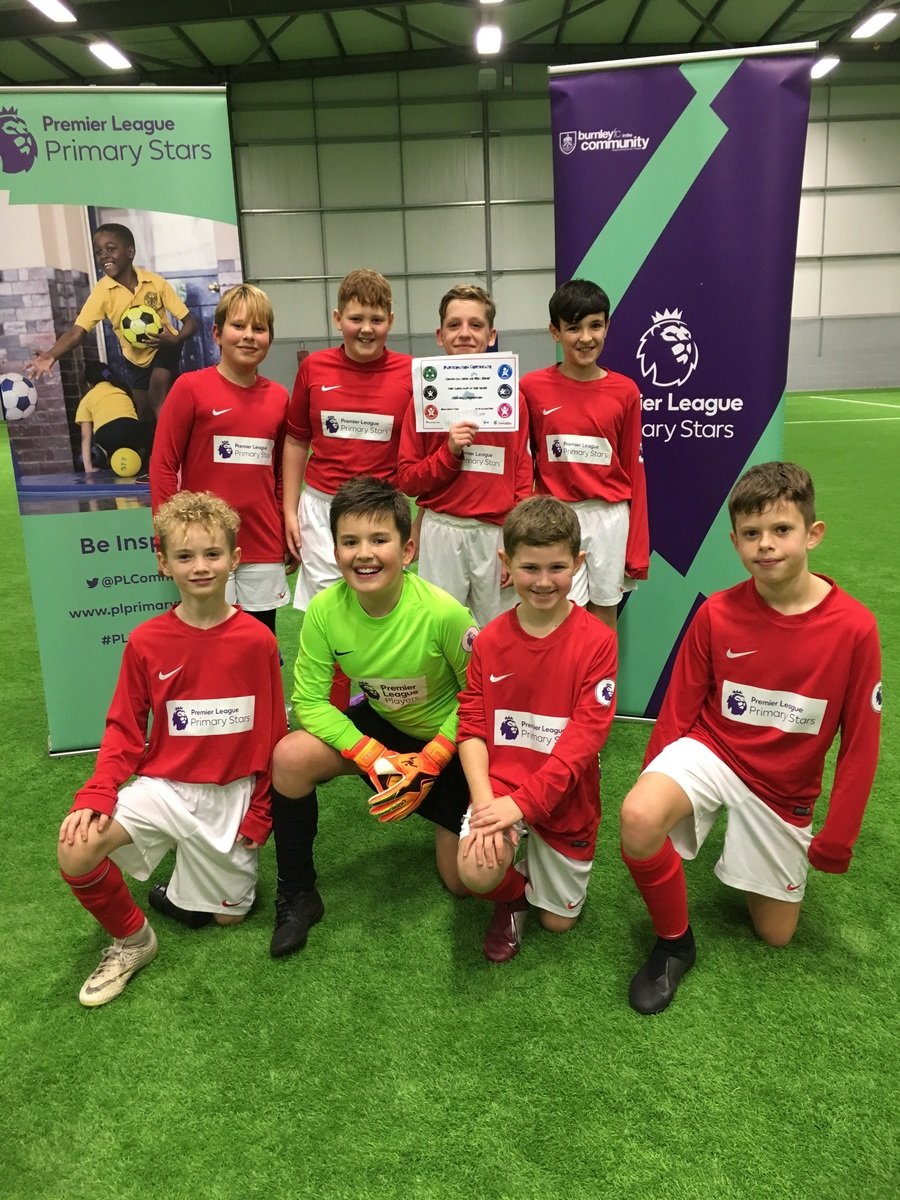 The u11 CTK boys football team visited Burnley FC's Barnfield Training Centre last Wednesday, to part in the Burnley School's Premier League Primary Stars football finals.
The level of competition was high, and the CTK team gave a great account of themselves both on and off the field, whilst displaying their talents throughout three hard-fought games.
In all the ties, CTK created several quality chances to score, and enjoyed a lot of the possession, spreading the play well and showing great resilience to work hard both on and off the ball. CTK were very unlucky on a number of occasions not to have scored after some impressive build up play. Midfield maestro Ollie had a host of chances denied by some excellent keeping, whilst fellow Year 5 pupil Harry saw at least one effort strike the bar.
CTK finished the tournament in 4th place, which is a fantastic achievement in itself, considering the amount of Burnley schools who competed in this year's event. The determined performances were pleasing to see and the boys did the school very proud!
I would like to thank BFCITC, together with the Premier League, and all the BFC staff, for allowing the boys the chance to play in the same Premier League environment as their Burnley first-team idols.
Our congratulations also go out to Worsthorne Primary, who were the eventual tournament winners.
What we are learning in PE:
EYFS
FMS SKILLS
YEAR 1
FMS SKILLS
YEAR 2
ATHLETIC SKILLS (BURNLEY LEISURE SESSIONS)
FMS SKILLS
YEAR 2
NET / WALL
YEAR 2
NET / WALL
YEAR 4
NET/ WALL GAMES
YEAR 5
NET/ WALL GAMES / PRO TENNIS LESSONS
YEAR 6
NET/ WALL