Phonics & Reading Scheme

Phonics
Phonics is taught daily at Christ the King and we follow the Lancashire Red Rose phonics scheme. The intent behind Red Rose Letters and Sounds is to provide a rigorous and thorough planning programme in order to strengthen the teaching and learning of phonics, and ensure children become enthusiastic and successful readers and writers.
The programme provides a clear route with daily sessions and a very rigorous approach through Phases 2-5 with a strong and swift start in Reception and a trajectory of learning to meet, and exceed, the expected standard in the Y1 Phonics Screening Check. Children in Reception begin the programme on entry to school. The planned route is:

Reception
Phase 2 – 12 weeks (autumn term)
Phase 3 – 15 weeks (spring term and continuing into summer term)
Phase 4– 4 weeks (summer term)

Year 1
Phase 5 – 5 weeks – further graphemes for reading
Phase 5 – 4 weeks – alternative pronunciations
Phase 5 – 13 weeks – alternative spellings for phonemes
Phonics Screening Check (PSC) graphemes are included throughout the programme. Pseudo words are included from Phase 3 Week 12 onwards for Phonics Screening Check practice.

Year 2 – word reading
Lancashire Key Learning in Reading and Learning and Progression Steps documents support planning for word reading through decoding by the end of key stage one.
Carefully considered word banks are included to support planning to apply phonic knowledge of skills into reading and writing after explicit teaching of each GPC. These word banks include decodable high frequency words linked to each group of GPCs. In addition, stretch and challenge word banks are provided which support vocabulary development across each phase. As part of daily phonics sessions and in additional handwriting practice sessions, opportunities are
included for children to practise the spelling of GPCs with application into words and sentences. Dictated sentences are frequently included so children can apply phonic words, tricky words, and high frequency words within engaging activities.
Red Rose phonics also aims to build children's speaking and listening skills as well as prepare children for learning to read by developing their phonic knowledge and skills.
Phonics intervention
Within the programme, a comprehensive overview of progression is provided. This tool outlines clear incremental progression steps for phonic knowledge and skills, and expectations of progress within and across phases. It enables teachers to conduct frequent and ongoing assessment to track and record children's progress and to identify those children at, below or above expected levels, so that appropriate support can be provided.
At Christ the King we use catch-up and consolidation programmes in order to support children falling behind who need extra practice. These programmes follow the same
progression as Red Rose Letters and Sounds. The programmes include:
• Fast Track Phonics for Phase 2 to Phase 5
• Bounce Back Phonics for Phase 4 and Phase 5
• Bounce Back Boost Pack for additional elements of Phase 5
Articulation of phonemes
A useful video clip showing the correct 'pure' pronunciation of phonemes (units of sound).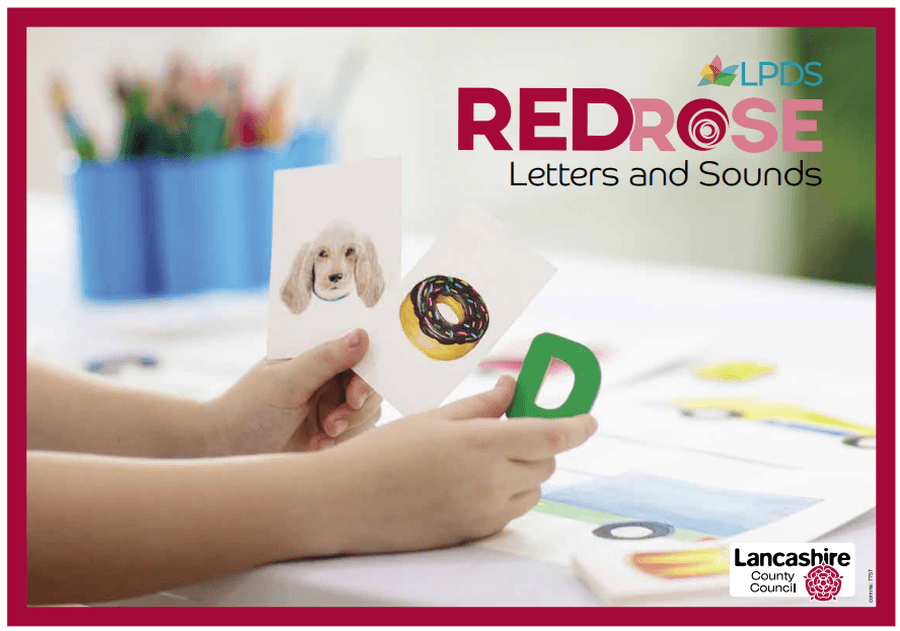 Phase 2
In Phase 2, children begin to learn the sounds that letters make (phonemes). There are 44 sounds in all. Some are made with two letters, but in Phase 2, children focus on learning the 19 most common single letter sounds.
Although the order in which sounds are taught will depend on which scheme your child's school follows, usually, they will learn the most commonly used phonemes first, starting with: /s/, /a/, /t/, /i/, /p/, /n/.
By the end of Phase 2 children should be able to read some vowel-consonant (VC) and consonant-vowel-consonant (CVC) words, and to spell them out. They also learn some high frequency 'tricky words' like 'the' and 'go.' This phase usually lasts about six weeks.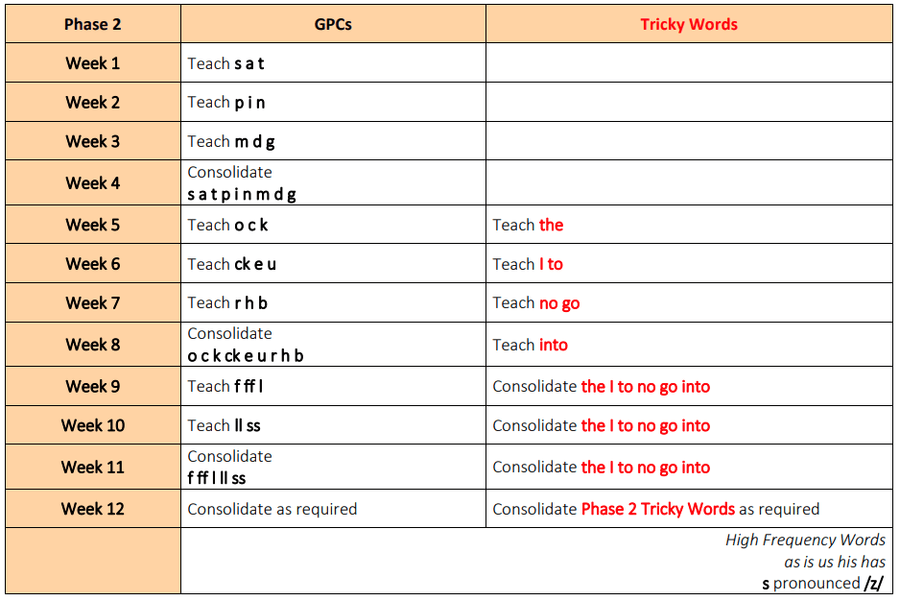 Phase 3
Phase 3 introduces children to the remaining, more difficult and/or less commonly used phonemes. There are around 25 of these, depending on which scheme is followed, mainly made up of two letters such as /ch/, /ar/, /ow/ and /ee/. They learn the names of the letters, as well as the sounds they make. Activities might include learning mnemonics (memory aids) for tricky words, practising writing letters on mini whiteboards, using word cards and singing songs like the Alphabet Song.
Phase 3 takes most children around 12 weeks. By the end, they should be able to say the sound made by most, or all, Phase 2 and 3 graphemes, blend and read CVC words made from these graphemes, read 12 new tricky words and write letters correctly when given an example to copy.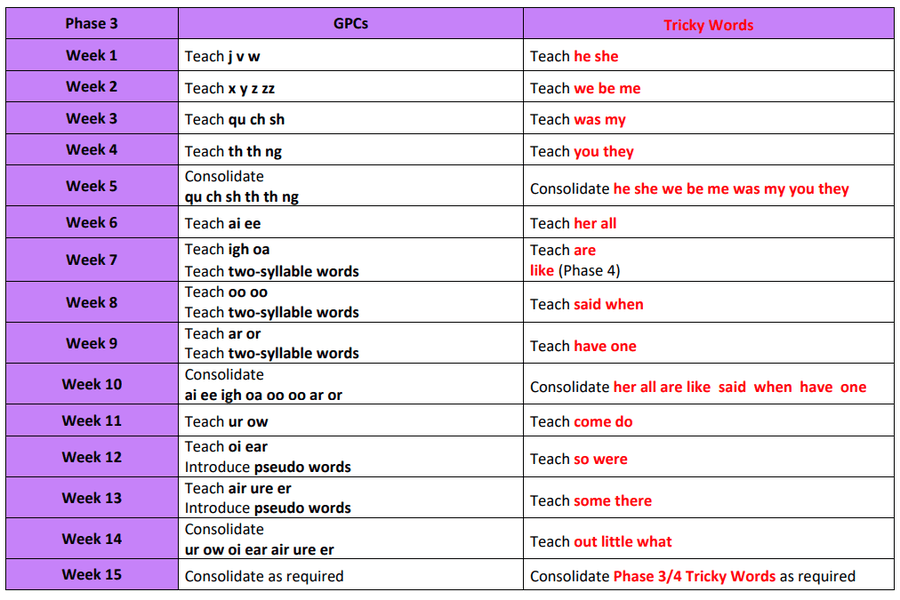 Phase 4
By now, children should be confident with each phoneme. In Phase 4 phonics, children will, among other things:
Practise reading and spelling CVCC words ('such,' 'belt,' 'milk' etc)
Practise reading and spelling high frequency words
Practise reading and writing sentences
Learn more tricky words, including 'have,' 'like,' 'some,' 'little'
Children should now be blending confidently to work out new words. They should be starting to be able to read words straight off, rather than having to sound them out. They should also be able to write every letter, mostly correctly. This phase usually takes four to six weeks, and most children will complete it around the end of Reception.

Phase 5
Phase 5 generally takes children the whole of Year 1. Children learn new graphemes (different ways of spelling each sound) and alternative pronunciations for these: for example, learning that the grapheme 'ow' makes a different sound in 'snow' and 'cow'.
They should become quicker at blending, and start to do it silently.
They learn about split digraphs such as the a-e in 'name.'
They'll start to choose the right graphemes when spelling, and will learn more tricky words, including 'people,' 'water' and 'friend'. They also learn one new phoneme: /zh/, as in 'treasure.'
By the end of Year 1, children should be able to:
Say the sound for any grapheme they are shown
Write the common graphemes for any given sound (e.g. 'e,' 'ee,' 'ie,' 'ea')
Use their phonics knowledge to read and spell unfamiliar words of up to three syllables
Read all of the 100 high frequency words, and be able to spell most of them
Form letters correctly
At the end of Year 1, all children are given a Phonics Screening Check to ensure they have mastered the appropriate knowledge.
Phase 6
Phase 6 phonics takes place throughout Year 2, with the aim of children becoming fluent readers and accurate spellers.
By Phase 6, children should be able to read hundreds of words using one of three strategies:
Reading them automatically
Decoding them quickly and silently
Decoding them aloud
Children should now be spelling most words accurately (this is known as 'encoding'), although this usually lags behind reading.
They will also learn, among other things:
Prefixes and suffixes, e.g. 'in-' and '-ed'
The past tense
Memory strategies for high frequency or topic words
Proof-reading
How to use a dictionary
Where to put the apostrophe in words like 'I'm'
Spelling rules
Although formal phonics teaching is usually complete by the end of Year 2, children continue to use their knowledge as they move up the school.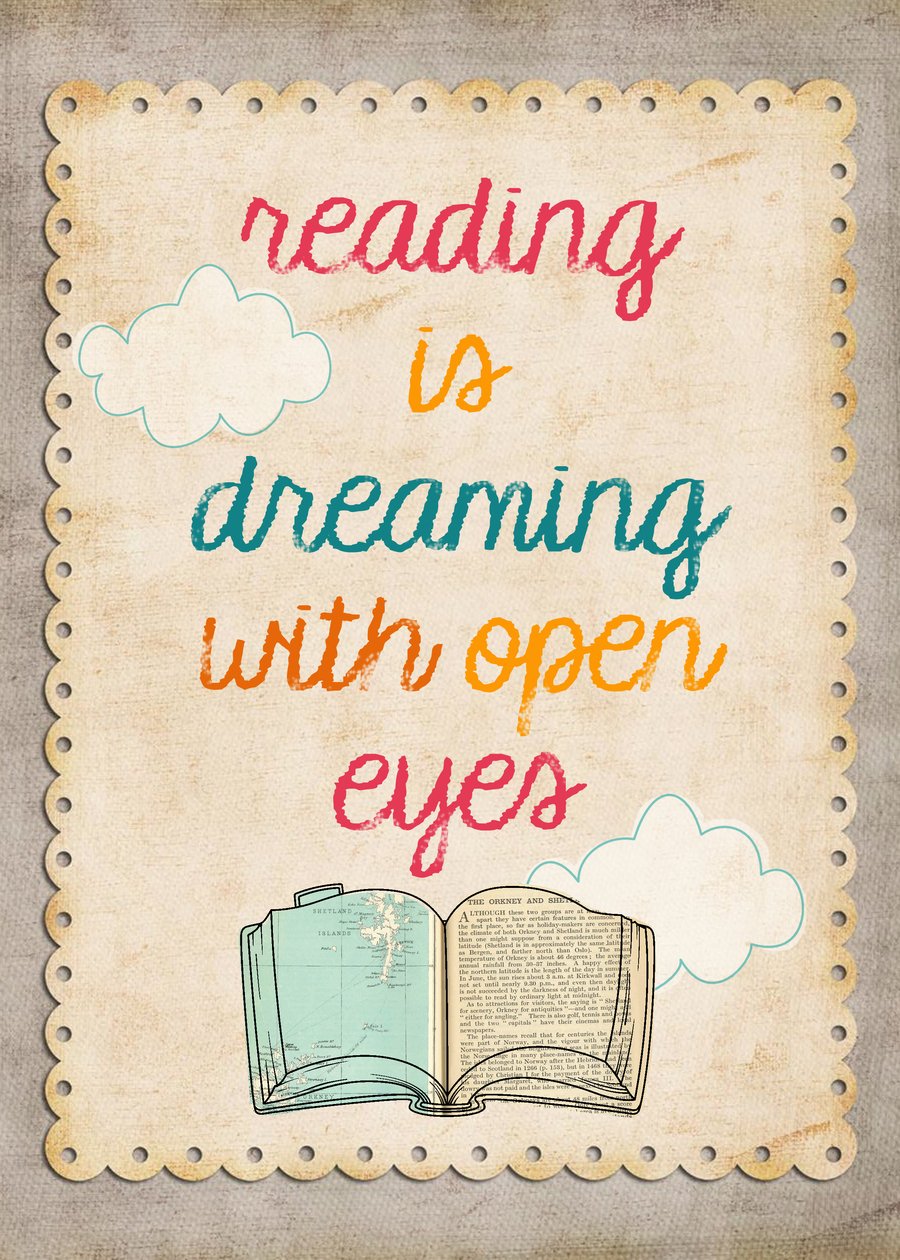 Reading
Learning to read is one of the most important skills a child will learn at school. At Christ the King, we want children to have a passion for reading.
We want to develop enthusiastic and confident readers who read not only for information but also for enjoyment.
In school reading opportunities are provided on a daily basis from guided reading, whole class reading, one to one weekly reading to visits to the school library and a weekly STAR (Sit together and Read) session on a Friday morning, whereby parents and children are welcome to come into our school library and to quietly sit and read together. We also have a BRILLIANT BOOK AWARDS FOR CHILDREN IN YEAR 2 AND fantastic book awards club (FBA) for years 5 and 6. CHILDREN IN KS1 ARE ALSO GIVEN OPPORTUNTIES TO TAKE HOME A READING SUITCASE. WHEREBY THE CHILDREN CAN SIT AND ENJOY A STORY CUDDLED UP WITH A TEDDY, BLANKET AND A HOT CHOCOLATE. THEY CAN ALSO WRITE ABOUT THEIR FAVOURITE STORY.

Structured reading schemes run throughout the school which aim to develop and extend children's reading at their individual levels. All children are given an individual login for active learn primary and an individual reading book to take home to support their learning. Parents are actively encouraged to be involved in their child's reading journey throughout their time at school and all children have a home school reading journal to ensure there is clear communication between home and school.
Book recommendations
Below are the 50 recommended books for each year group, as recommended by the website www.booksfortopics.com